Accessibility at the Cathedral
Accessibility at the Cathedral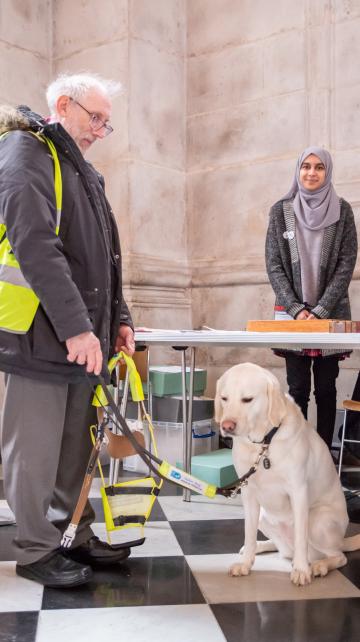 With specially designed guides and tours, and measures in place to improve physical accessibility, disabled visitors can enjoy a visit to the Cathedral. 
We are pleased to offer all disabled visitors – and an accompanying carer or assistant – a free ticket to come and sightsee. Worship is free to all.
Our Visitor Experience team are here to welcome you and will be on hand should you need assistance during your visit. This page outlines all the support we have in place. 
If you have any specific questions about accessibility that you cannot answer here, please contact our Sales and Admissions team at admissions@stpaulscathedral.org.uk or 0207 246 8357. On Sunday, please telephone the Virgers on 0207 246 8320.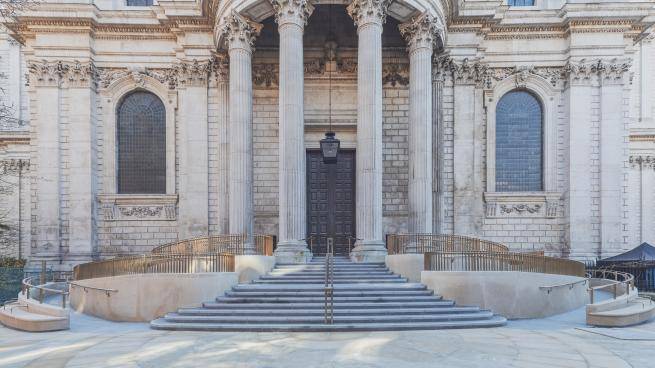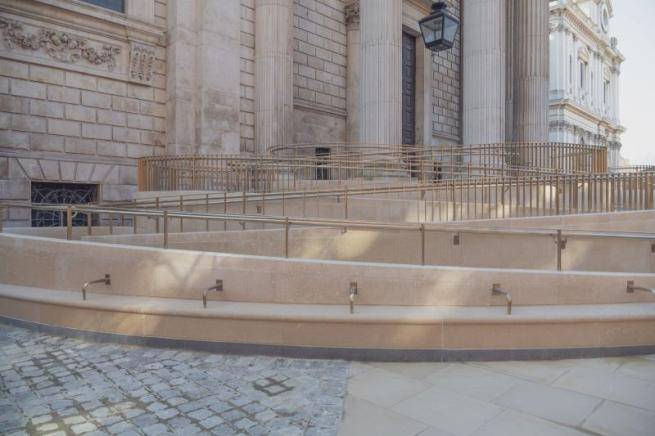 Coming into the Cathedral
Parking
For information on individual disabled parking near to the Cathedral, please visit the City of London website. 
If you are visiting the Cathedral with disabled passengers in a mini bus, please contact us on 0207 246 8350 in advance, so that we can help you arrange a drop-off point. If you have a single disabled passenger with you, please call reception and ask to be put through to the Security Control Room, who can help your passenger gain access to the Cathedral.
Requesting a free ticket
During sightseeing hours, any disabled visitor can request a free ticket for them and an accompanying carer or assistant. You can book these tickets in advance or ask for them when you arrive. When you arrive do let us know if there is any specific assistance you need. 
Please note that it is always free to worship at St Paul's.
Step-free access
The new North Transept entrance has ramped access, and this is the recommended entrance for wheelchair users and those requiring step-free access. The entrance leads directly onto the Cathedral floor. 
Cathedral wheelchairs are available on request.
Assistance dogs
Guide dogs, hearing dogs and assistance dogs are all welcome in the Cathedral. Please ask our Visitor Experience Assistants if you need some water for your dog.
Mobility scooters
Smaller mobility scooters are welcome in the Cathedral – however, the lift connecting the Cathedral floor and Crypt cannot accommodate many Class 3 scooters or some larger class 2 scooters. We recommend that you check that your scooter will fit in the lift before you arrive at the Cathedral: 
Usable lift space - 1,400mm length x 1,300mm width.
Navigating the Cathedral
Once you enter the Cathedral's main floor, you will be able to access the Crypt and the Quire without using any stairs. Other parts of the Cathedral are step-access only. This map shows the location of stairs and facilities on the main floors.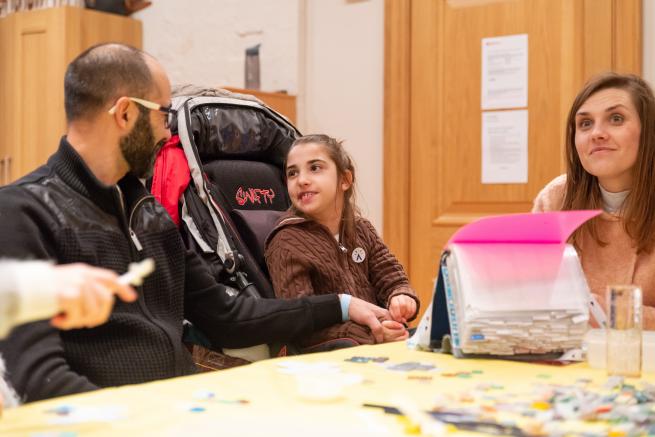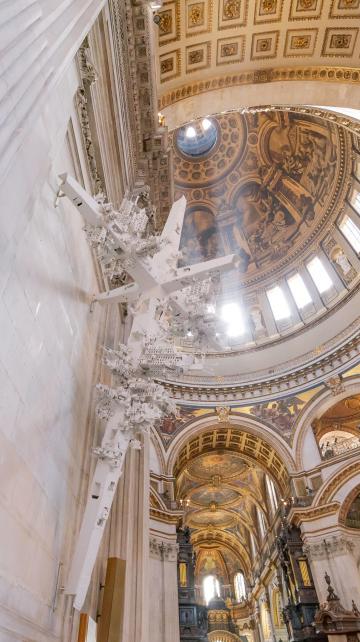 Access to the Crypt and the Quire
Our Crypt and Quire have step-free access. The Crypt is accessible by a lift, please check that your wheelchair or scooter will be able to fit into the space: 
Usable lift space - 1,400mm length x 1,300mm width.
Our Quire is accessible by a small, electric stair lift, which has platform of 1.0m x 0.760m.
Access to the galleries
Unfortunately, access to the Whispering Gallery (257 steps), Stone Gallery 
(additional 119 steps) and Golden Gallery (additional 152 steps from Stone) is via stairs only.
We recommend that those with pre-existing medical conditions, mobility difficulties or concerns with heights and confined spaces do not try to climb these stairs. A video fly-through of the gallery levels and their views is available on the multimedia guides. 
Access to the Triforium
The Triforium – which you can visit by booking a tour in advance – does not have lift access available. There are 141 steps leading to this level, and the tour route includes up to a further 10 short flights of stairs, each no more than 10 steps.
Left and right-handed wheelchair-accessible unisex toilets are available within the Crypt. Our male and female toilets also have one cubicle with grabrails for ambulant users.
If you require a larger 'Changing places' toilet, the nearest facilities are located at the Barbican Centre and Tate Modern – a short distance from the Cathedral. Details can be found on the Changing Places website.
The nearby Paternoster Square and One New Change shopping centre also have accessible toilets, should you require those before arriving or after you have left the Cathedral.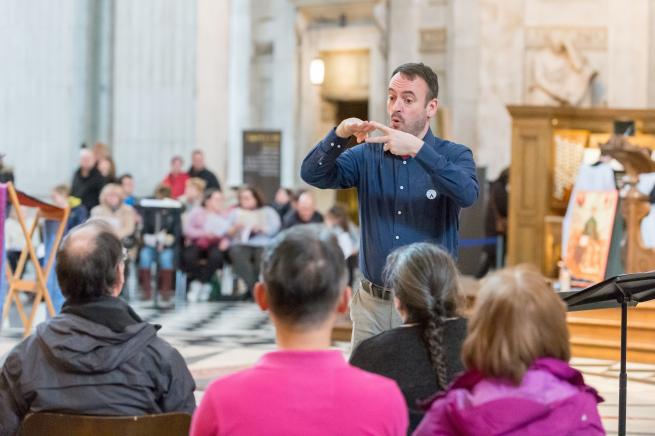 Guides and tours
For vision-impaired visitors 
We have audio description guides of the Cathedral available, in which visitors are encouraged to touch sculptures and carvings. Read more about our guides and how to collect them. 
We also run free guided 'touch tours' which should be pre-booked in advance. 
Large print and Braille copies of our orders of service are also available. Our Virgers hold these, and you can ask our Visitor Experience Assistants, who are always on the Cathedral floor, to obtain one when you arrive. 
As part of the project London Beyond Sight, VocalEyes recorded historian and curator Sandy Nairne – a passionate fan of St Paul's – giving his own description of the Cathedral's façade. 
For hearing-impaired and d/Deaf visitors
The Cathedral is equipped with a hearing loop system that covers the Cathedral floor and the OBE Chapel in the Crypt. This is used during all of our services for each spoken word element, including hourly prayer.
Personal induction loops are available for use with our multimedia guides.
We also have a multimedia BSL signed tour with subtitles, available on our multimedia guide.
Image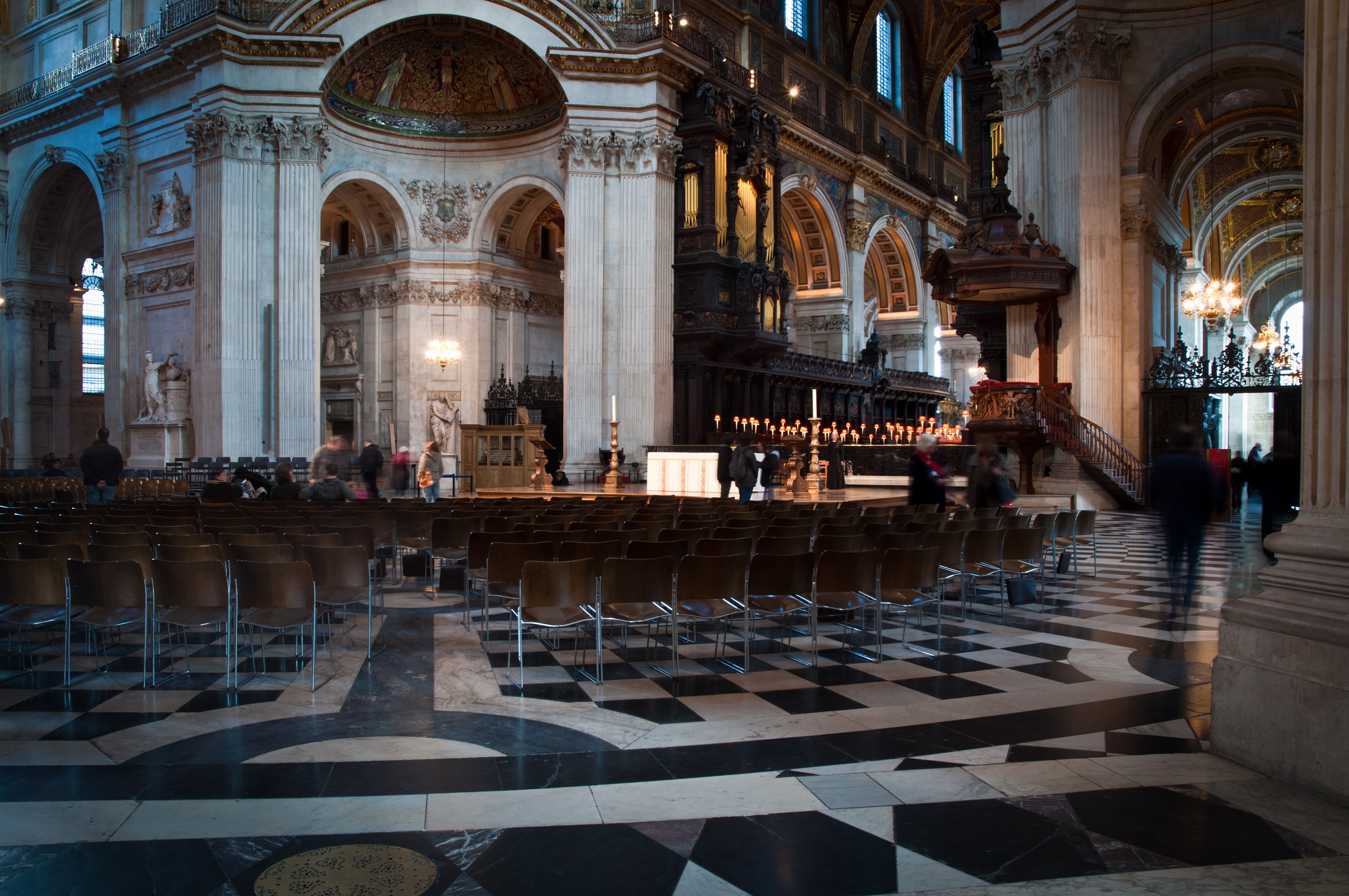 Book your tickets
On our booking page, you'll find information about our various sightseeing tickets, including how to book a free ticket for a disabled visitor and what discounts are available for families, groups, concessions and more.