Work for us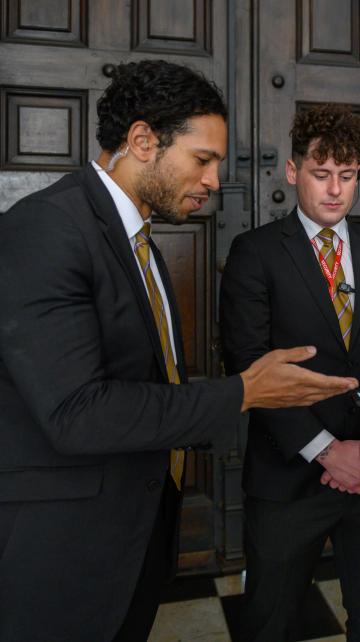 St Paul's, one of the most iconic buildings in the world, is a place of worship, a centre of learning and a visitor attraction.
As a result, we have 160 employees from all backgrounds with a diverse range of duties. Each one is supported in playing an important part, both individually and as part of a team, in fulfilling St Paul's multiple roles in the community.
Everyone who works for us has the chance to be part of something that is more than just a day job. If you're looking for a welcoming place to work where you can go home knowing that you've made a difference and are preserving one of the most iconic buildings in the world for the next generation, we would love to hear from you.
Our teams 
As a place of worship, the Liturgy, Worship and Events Directorate is responsible for the daily rhythm of prayer, worship and music, plus pastoral care and the management of special services, events, weddings, baptisms and visiting choirs.
The Learning Directorate consists of three strands of work which are Adult Learning; Schools and Family Learning and Social Justice. The three departments work together to provide learning events and engagements for people of all ages in person, virtually and through online resources.
The Visitor Engagement Directorate is responsible through both staff and volunteers for the welcome, engagement and security of all our worshippers and visitors, in addition to preserving the Cathedral's collections for future generations, ticketing, marketing and digital engagement, retail sales and corporate events.
Supporting these teams we have HR, IT, Communications, Finance and Safeguarding colleagues, in addition to our Works Department of electricians, plumbers, cleaners, carpenters, fitters, masons and labourers accountable for the care, repair, maintenance and major works of the Cathedral.
Finally, we have our Development Directorate responsible for maximising grant, gift, legacy, fundraising and sponsorship income to support the revenue, capital, special projects and endowment needs of the Cathedral, in accordance with St Paul's ethical fundraising policy.
Our benefits
Our benefits include:
25 days holiday plus bank holidays
pension which allows for up to 7.5% employer contribution
life assurance of four times basic salary
access to our employee assistance programme
season ticket loans
enhanced maternity and paternity pay
long service recognition
flu vaccinations and eye care rebates.
Our Values
Welcoming – We all offer a warm inclusive welcome to everyone: our colleagues, volunteers and each one of our visitors.
Responsible – We are people of integrity, each responsible for part of the whole of the Cathedral's work, looking after the Cathedral for the next generation.
Engaging – We seek to engage everyone in our mission, at the Cathedral, within London and across the world.
Nourishing – As a community we work together in a learning environment, aiming for the highest possible standards in everything we do whilst acknowledging that we cannot do everything.