The bells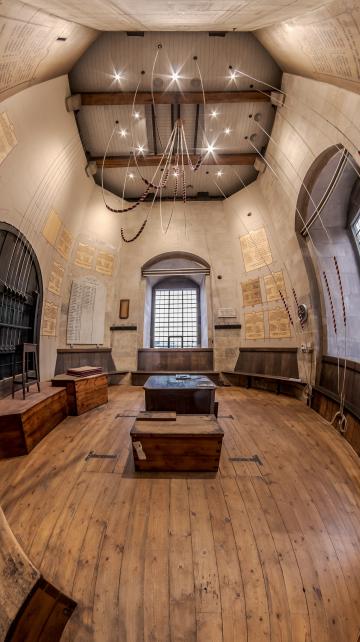 Learn more about the different bells we have in the Cathedral, when bells are rung and how change ringing works.
We have a number of different bells at the Cathedral – our 12 change ringing bells, which you can hear being rung every Sunday, the colossal 'Great Paul' and our clock bells.
The 12 'change ringing' bells were cast in 1878. They hang in the north west tower of St Paul's, and form the second largest ring of bells in the world.
Change ringing requires both physical and mental ability.  It takes most ringers several years to become sufficiently skilled to ring on the challenging bells of St Paul's. 
Each bell is given a number, from 1–12, and is rung by a single ringer. A 'change' is a sequence of these numbers where each bell rings once. The order or sequence is changed and each bell rings again. 
The St Paul's change ringing bells are in the key of B flat. The smallest 'treble' bell weighs just over eight hundredweights, while the largest 'tenor' bell weighs over three tons (61 cwt).
Great Paul is housed in the south west tower, and is the largest bell ever cast in the British Isles, weighing in at an incredible 16½ tons. Great Paul has a broken chiming mechanism, meaning it does not ring every day as intended – but is rung manually for larger services.
Our three clock bells strike the hours. The largest, Great Tom, weighs over 5 tons, and also tolls to mark the deaths of senior members of the Royal Family, the Archbishop of Canterbury, the Bishop of London, the Dean of St Paul's or the Lord Mayor of London.
Bell ringing times
You can hear the Cathedral bells on a Sunday at:
9.30am to 10am: half an hour before Mattins 
10.45am to 11.15am: half an hour before our main Eucharist service
2.30pm to 3pm: half an hour before Evensong.
Also, in the north west tower is the original service bell – 'The Banger' – which rings before weekly services: 
8am: Morning Prayer
8.30am: Eucharist
12.30pm: Eucharist
5pm service: Either Evensong or Sung Eucharist.
The service bell also rings just before the 8am and 5.30pm services on a Sunday.
These bell ringing times are sometimes changed when service times change. Please take a look at our calendar for up to date details on all of our services.
More on music and worship