Select floor
Cathedral Floor

Cathedral Floor

The Cathedral floor is where our main daily services happen, and hosts many of our most recognised monuments – from Wellington's towering dedication to the statue of John Howard, St Paul's first ever monument. Visit the information desk at our entrance or our tours desk to connect with our of our expert guides, or pick up a multimedia tour from the multimedia desk to enjoy a self-guided tour at your own pace.

Accessibility lift

Accessibility ramp

Information desk

Multimedia guide collection desk

Tour guides' desk
The Crypt

The Crypt

The Crypt is where many beloved historical figures – from artists to scientists to the Cathedral's own chief architecture, Sir Christopher Wren – are buried and remembered. It is also home to the spectacular OBE Chapel and our exhibition space. As your visit comes to a close, take a few moments to visit our shop, where you can find an array of souvenirs and memorabilia, historical literature, books on faith and worship and more.

Accessibility lift

Accessibility ramp

Accessible toilets

Baby changing facilities and toilets

Information desk

Men's toilets

Shop

Women's toilets
The Dome

The Ball and Lantern

The original ball and cross that topped the Cathedral were erected in 1708. They were replaced by a new ball and cross in 1821, designed by the Surveyor to the Fabric, C R Cockerell. The ball and cross stand at 23 feet high and weigh approximately seven tonnes.

The Golden Gallery

The Golden Gallery is the smallest of the galleries and runs around the highest point of the outer Dome, at 85 metres. Visitors who climb the 528 steps to this gallery will be treated to incredible panoramic views of London.

The Stone Gallery

The Stone Gallery is the first of two galleries above the Whispering Gallery that encircle the outside of the Dome. The Stone Gallery stands 52 metres above ground level and can be reached by 376 steps.

Whispering Gallery

Climb up 257 steps from the Cathedral floor and you will find the Whispering Gallery, which runs around the interior of the Dome. It gets its name from a charming quirk in its construction, which makes a whisper against its walls audible on the opposite side.

The Dome

The Dome is one of the most famous London landmarks, designed to draw the eyes towards heaven. Its total height is 111 metres (365 feet) and although the medieval Cathedral was taller, the St Paul's Dome is the only dome to be seen on an English cathedral. It includes the interior Whispering Gallery and the external Stone and Golden Galleries.*

Explore the Galleries during your visit.

*Please note that the Galleries can be accessed by stairs only. There are a total of 257 steps to the Whispering Gallery, 376 steps up to the Stone Gallery and 528 steps (total) to the Golden Gallery. We recommend that those with pre-existing medical conditions, mobility difficulties or concerns with heights and confined spaces do not try to climb these stairs.

Image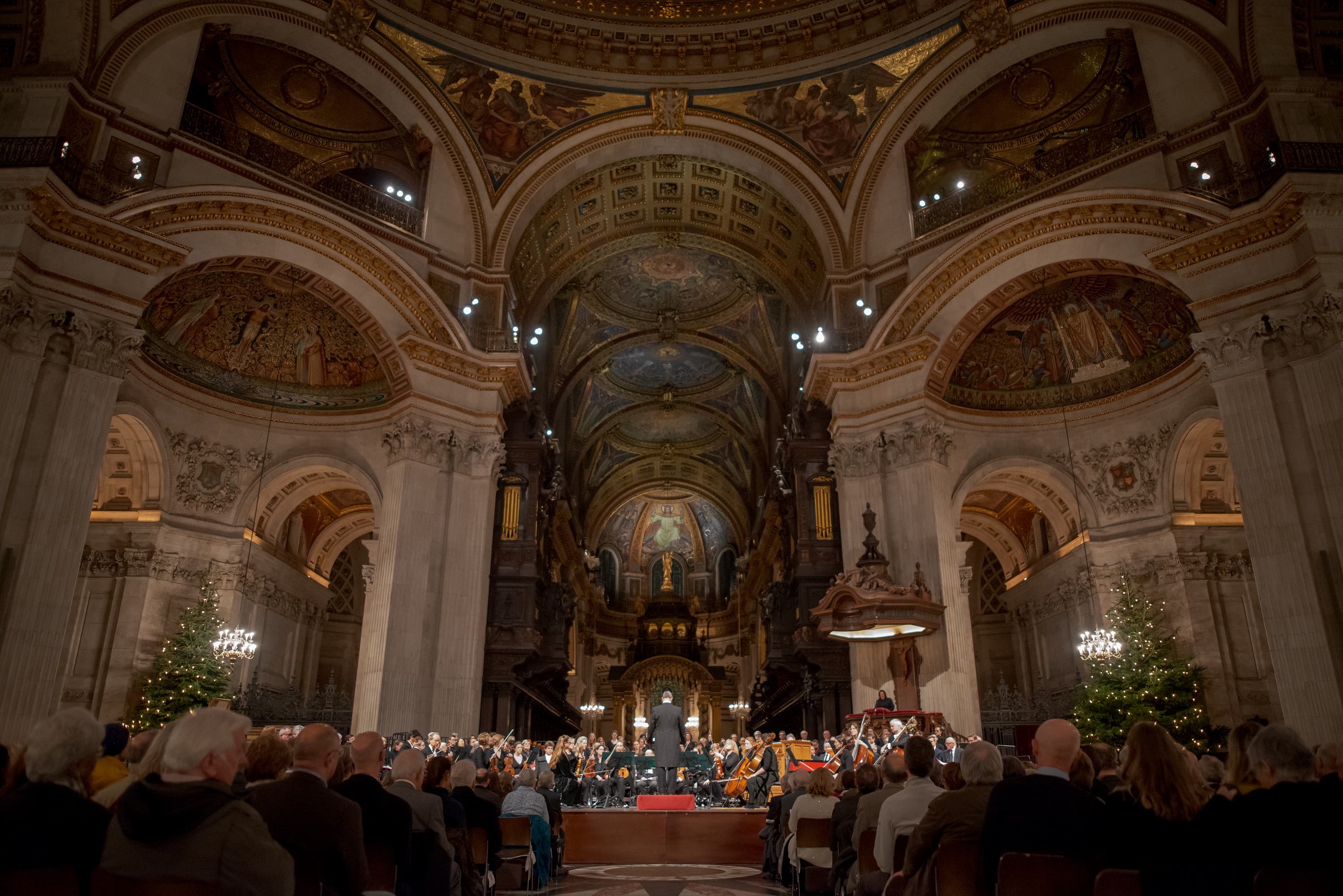 Book your tickets
On our booking page, you'll find information about our various sightseeing tickets, including what discounts are available for families, groups, concessions and more. You can also book Triforium tours and guidebooks via our online booking portal.