Group visits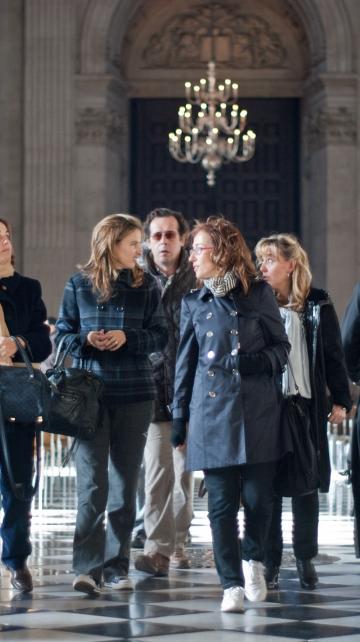 For groups, we offer free tickets for leaders and guides, bookable private tours and special equipment to help you lead your own tour. 
We warmly welcome groups visiting the Cathedral and offer group tickets and a free place policy when buying tickets for 15 or more visitors. Group tickets are for groups of 15 or more visitors. Group tickets are charged at:
2023
Adult: £20.50
Concession: £18.40
Child (6-17 years): £9.00
2024
Adult: £22.50
Concession: £20.00
Child (6-17 years): £9.00
We recommend you pre-book your group visit in advance online or with our team, but our group tickets are also available on a walk-up basis, subject to availability.
Admission to the Cathedral includes our easy to use multimedia guides available in nine languages, and many group visitors use these engaging and extremely popular devices on a self-guided basis.
London Blue Badge Guides and City of London Guides (who have passed the St Paul's Cathedral accredited course) are very welcome to guide their groups inside the Cathedral, as are teachers and lecturers visiting with their students.
One free admission ticket is added per group booking of at least 15 paying visitors and can be used by a group organiser, leader or coach driver.
Alternatively, for groups of at least 15 paying visitors containing 10 or more children (6-17 years), one free supervising adult ticket is added for every ten paying children. Separate visiting opportunities are available to UK schools through our schools and family learning team. 
The two scenarios above cannot be combined. Blue Badge and City of London guides always receive free entry and do not require a ticket of any kind.  
Please note: Unfortunately group tickets cannot be upgraded to Annual Passes.
Group sizes
There is no maximum group size for group admission but we recommend groups of over 50 visitors contact us with their visit plans in advance. We can discuss arrangements together such as reservation of multimedia guide equipment and possible staggering of entry.
We recommend that those bringing groups of children follow the NSPCC guidance which recommends having at least two adults present and the following minimum adult to child ratios:
| | |
| --- | --- |
| 0-2 years | one adult to three children |
| 2-3 years | one adult to four children |
| 4-8 years | one adult to six children |
| 9-12 years | one adult to eight children |
| 13-18 years | one adult to 10 children |
In order to visit the Cathedral with a group of children, these are the very minimum adult to child ratios that must be met: 
| | |
| --- | --- |
| 6-12 years | one adult to 10 children |
| 13-17 years | one adult to 20 children |
Groups of children should stay together with their supervising adults throughout their visit.
Distributing group tickets
Group tickets booked in advance are emailed to you as individual E-tickets in a pdf file. E-tickets can be printed or shown on a mobile device. You can also opt to receive one pdf file per E-ticket if this helps with distribution to your group members. This means your group members can arrive and enter the Cathedral with their own E-ticket as opposed to needing to enter all together as one group.
Because groups of children are expected to stay together with their supervising adults throughout their visit, only one E-ticket is issued to cover all group child tickets booked.
The same applies for group tickets purchased as walk-in's, except tickets are created and issued in person. When purchasing group tickets as walk-in's, the group organiser may first pay for and obtain the group tickets from our ticket sales desks. They should please ensure everyone is in possession of their ticket before entering.
Tickets need to be shown at various points within the Cathedral so please ensure your group members keep possession of or have access to their ticket at all times.
Booking a private tour
We know that many groups enjoy a guided tour experience when visiting the Cathedral. Some of the guided tours led by our expert Cathedral guides can also be booked on a private basis, just for your group. Tour commentary is delivered in English only.
Private Triforium guided tour (2024 prices)
£300 for up to 20 people, in addition to admission.
A one-hour tour behind the scenes to the Triforium level, including the library, the Trophy Room and Great Model, as well as a spectacular view down from the top of the iconic Geometric Staircase and another down the nave from above the Great West Doors.
Maximum capacity of 20 per tour; sometimes with the option to run two simultaneous tours.
Private guided tour (2024 prices)
£125 for up to 10 people, in addition to admission. Thereafter, £12.50 per person. 
A one-hour tour of the Cathedral Floor and Crypt.
Maximum capacity of 50 per tour.
Please contact us at least a month in advance to enquire about booking a private guided tour for your group. Unfortunately, our group free place policy for group admission tickets does not apply to private guided tour add-ons.
Follow a guide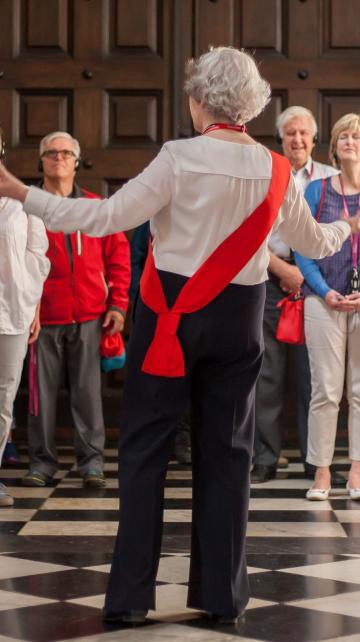 Using our multimedia guides
Admission includes use of our multimedia guide which is perfect for self-guided visits and available in nine languages plus British Sign Language. Visit our guided and self-guided tours page for more information.
Booking a guide
For groups who prefer to tour together with their own guide, we recommend a London Blue Badge guide or City of London guide (who has passed the St Paul's accredited course). These guides, as well as teachers or lecturers with their students, are permitted to guide their groups in the Cathedral. If you are searching for a qualified guide to accompany your group, here are a couple of starting points:
Using the Group Tour System
The group tour system (GTS) is a system for guiding groups, and is available for all London Blue Badge guides, City of London Guides (who have passed the St Paul's Cathedral accredited course), St Paul's Cathedral guides and teachers or lecturers visiting with their students.
It allows one guide or group leader to communicate to group members via headphones, using a microphone and transmitter.
Alternatively, a guide or group leader's transmitter can be connected to our multimedia guide, allowing them to craft their own tour using our commentary to supplement it. The GTS equipment is free to use and has helped thousands of group visitors to hear their guide far more clearly, keeping the group together and engaged.
The GTS is always there for guides and group leaders to try. Feel free to go to the GTS desk (adjacent to the multimedia guide desk on the Cathedral floor) and test it. When you do, the team there will be happy to explain to you how it works.
Contact us
Our team are happy to assist group organisers, coach tour operators or any travel trade organisations plan and book visits to St Paul's Cathedral. Contact us on admissions@stpaulscathedral.org.uk or 020 7246 8357.
For those sending visitors to the Cathedral regularly please view our travel trade page for further information. Find out about other ways to work with St Paul's by using our B2B booking portal or voucher scheme, and further discounts. Our team are usually available Monday to Friday, 9am to 5pm, except for public holidays.