Conservation
Conservation is a big word for a simple ethos – taking care of our Cathedral and its contents so it can be enjoyed for generations to come.
At St Paul's, conservation is the way in which we look after and care for our building and its contents within a busy working church.
We have over 1400 years of history buried within our walls, so it's not surprising that many of our everyday objects have a significant history that we must preserve for future generations to enjoy.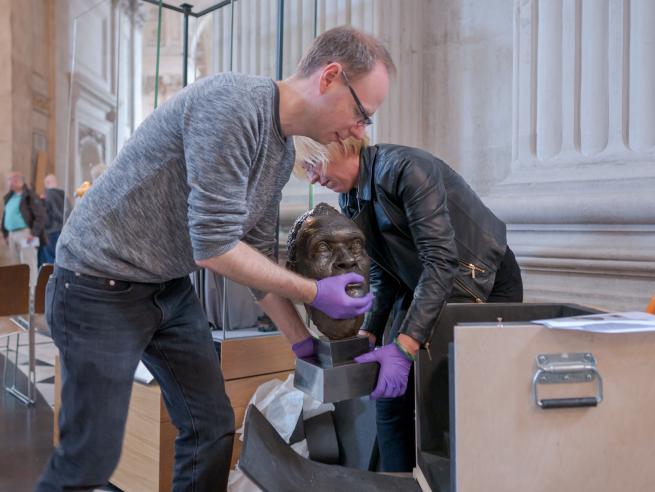 Over the 1400 years of worship at the heart of the city, we have collected over 3000 objects. From the ordinary to the extraordinary, these treasures have a unique story to tell us about the faith of a nation and the art we use to celebrate it.
The breadth and variety of objects we look after include every conceivable material and artistic form you could imagine:
marble monuments and stone plaques created by leading sculptors of the day to celebrate the great and the good
gold-threaded altar cloths and vicars vestments which glint and shine daily in our services
fantastic wooden flowers and foliage carved with love by the glorious Grinling Gibbons
iron railings, gates and window frames hand-wrought by the master blacksmith Jean Tijou
mosaic ceilings by William Blake Richmond with intricate angels so lifelike they could break flight at any moment
contemporary sculptures, digital art installations and pre-Raphaelite oil paintings of a scale to inspire all ages and tastes.
How do we look after the collection?
First and foremost, we want to use and enjoy our collection and building for the purpose it was made. Just like at home we carefully clean our belongings and put them away safely. We look for damage and mend things as they break, whilst trying to learn what caused the damage so we can prevent it in the future.
The way we care for the Cathedral and the contents it holds falls into one of two categories:
Preventative conservation
In an ideal world, we can use monitoring and on the ground knowledge to identify problems before damage occurs. We look at factors known as 'agents of deterioration' which include UV light levels, humidity, insect numbers, dust levels and work practices to identify problem areas. 
We can change and adapt the way we use an object or carry out routine care to reduce the risk of damage from the agents of deterioration and when it goes right we can prevent damage from happening.
Interventive conservation
We can't control everything in life, and accidents happen. Sometimes the agents of deterioration sneak up on us – like a leak in the roof or a ladder falling against a painting – and we have intervened and conserved an object. 
Before we intervene we will consult specialists and gain permission from advisory committees. We have a philosophy of minimal intervention and it is important to us that any treatments we carry out are sensitive to the object, its context and most importantly necessary for us and future generations to continue to enjoy the object or our building.
Great or small, valuable or sentimental, all of these artworks that we care for were a gift from the people of the past to enjoy in the present. This is why we have a duty of care to use them, appreciate them and look after them as best we can so they are still there for future generations to enjoy.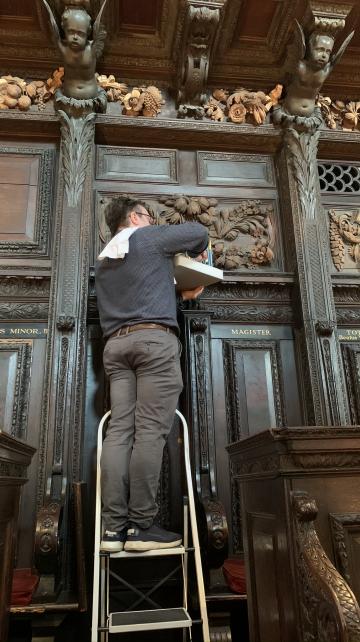 Our conservation projects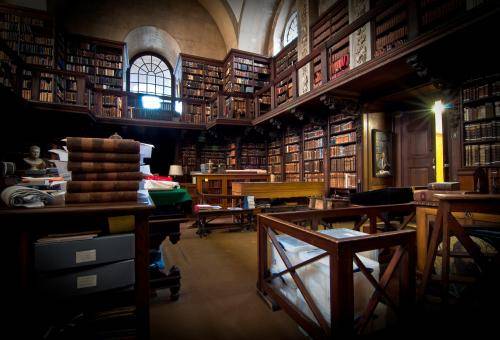 Transforming the Library
The ingenious architecture of Christopher Wren conceals a secret area of the Cathedral, which is home to a remarkable room – the Cathedral Library.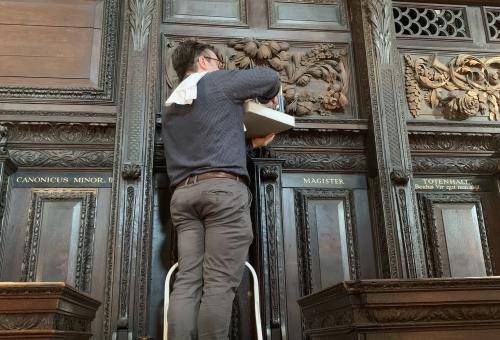 Recreating the Quire carvings
Understand how the Quire has evolved over the past 300 years and how those changes have created conservation considerations today.