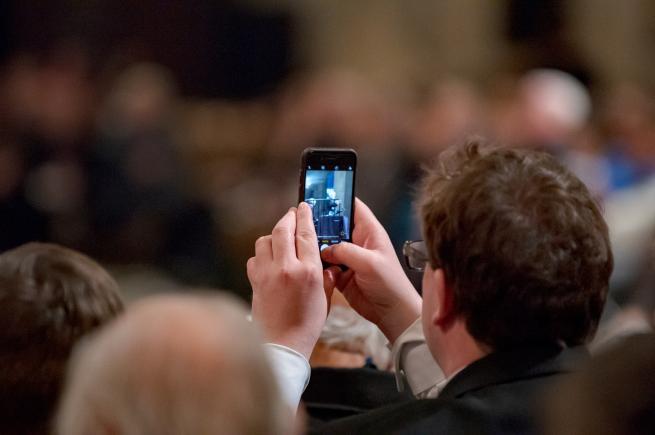 Filming and photography
There are some simple rules we ask our visitors to follow when taking photos inside the Cathedral, to respect the privacy of others.
We wish to share our beautiful space with everyone, and we welcome mindful, non-flash photography for personal use outside of service times. Be sure to tag us in your photographs @stpaulslondon on Twitter and @stpaulscathedrallondon on Instagram, or use the hashtag #stpaulscathedral.
When is photography allowed inside the Cathedral?
Visitors are welcome to photograph the Cathedral during sightseeing hours, Monday to Saturday. Up to date opening hours can be found on our Visit us page. 
However, we ask that visitors do not take photographs during any of our services, to be respectful and mindful of the privacy of others. If you are unsure about when our services take place, view our services calendar or speak to one of our Clergy team, Virgers, Visitor Experience staff or Cathedral Floor Guide Volunteers. 
Occasionally we may designate 'no photography' areas inside the Cathedral on a temporary basis, but these will be clearly signed.
Where is photography allowed inside the Cathedral?
Non-flash stills photography for personal (i.e. non-commercial) use is welcomed across the Cathedral Floor, in the Crypt and on the Stone and Golden Galleries. Photography is not permitted on the Whispering Gallery. As St Dunstan's Chapel is a specially designated space for private prayer and reflection, photography is not allowed in this area.
What equipment can I use?
To make sure the Cathedral is a safe, enjoyable and accessible place for all we ask that visitors do not use flash photography or additional lighting, tripods, monopods, gimbals or selfie sticks.
Is videography allowed inside the Cathedral?
Videography and the recording of moving images by visitors are not allowed. If you are interested in finding out more about commercial and news filming and photography or feature filming, please visit our page for professional filmmakers for more information.