Never to Forget Concert at St Paul's Cathedral: a COVID-19 memorial concert
Never to Forget Concert at St Paul's Cathedral: a COVID-19 memorial concert
St Paul's Cathedral, in partnership with London Symphony Chorus and Rambert, presents a special memorial concert for all who have died as a result of the COVID-19 pandemic. Special recognition is given to NHS and social care workers. The concert will be performed at St Paul's Cathedral on the 2nd anniversary of lockdown in the UK, Wednesday 23 March 2022 at 7pm.

The concert includes a unique performance of Never to Forget, an original composition by Howard Goodall CBE, as performed by the London Symphony Chorus and City of London Sinfonia, with choreography by Benoit Swan Pouffer performed by Rambert.

The programme includes readings by special guest Stephen McGann, who will read poems written by Simon Armitage, Poet Laureate in response to COVID-19 and in commemoration of lives lost during the pandemic.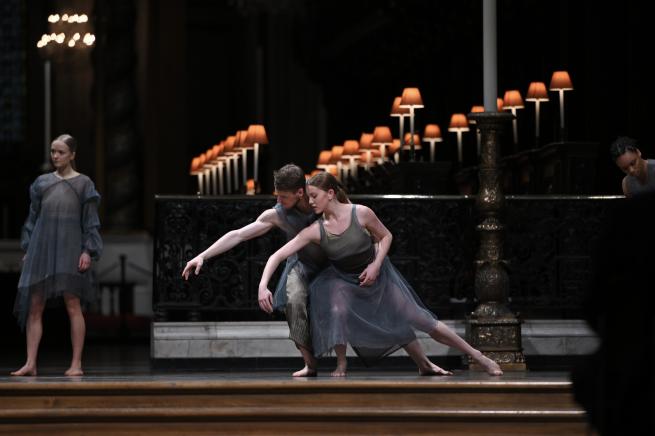 The world-famous Choir of St Paul's Cathedral will perform music of reflection and remembrance by Michael Tippett and John Tavener. Tickets for the concert are sold out and the concert will be livestreamed for free.

Remember Me is an online book of remembrance (www.rememberme2020.uk) from St Paul's Cathedral, open to people of all faiths and none, to remember all those who had died as a result of the COVID-19 pandemic. Since its launch in May 2020, over 10,000 people have been memorialised on the Remember Me online book of remembrance, and remains open for as long as it is needed. Work has also begun on a physical memorial space at St Paul's Cathedral due to open to the public later in 2022.

Never to Forget was commissioned by London Symphony Chorus as a musical memorial to the many UK health and social care workers who died caring for others during the COVID-19 pandemic in 2020 and 2021. It pays tribute to 285 people who were among those to die, and those whose names have yet to be revealed. The use of their names was treated sensitively, and bereaved families were contacted, whenever possible, through NHS trusts and care homes. Dancers from Rambert will perform original choreography by Benoit Swan Pouffer to this emotive composition.

The concert includes Stephen McGann reading poetry written by Poet Laureate Simon Armitage; readings by philanthropist and supporter of the Remember Me project Sir Lloyd Dorfman and a reflection from Professor Dame Elizabeth Nneka Anionwu an Emeritus Professor of Nursing at the University of West London.

The Very Reverend Dr David Ison, Dean of St Paul's says "In the spring of 2020, St Paul's launched Remember Me, an online book of remembrance as a way to honour and mourn the loved ones who had died as a result of the COVID-19 pandemic. As we come to the second anniversary of the UK's initial lockdown, it is a natural moment to reflect on the many losses and sacrifices during the pandemic. The Never to Forget concert at St Paul's is a special and poignant way to commemorate this difficult time in our history"

Rambert's performance and choreography of Never to Forget with the renowned London Symphony Chorus has been made possible thanks to the belief and generous support of Dame Sue Street and Richard Street.

Remember Me and Never to Forget memorial concert
St Paul's Cathedral
Wednesday 23rd March 2022
7pm-8pm
Notes to editors
For more information and images, please contact the St Paul's Cathedral press office on 020 7246 8321 press@stpaulscathedral.org.uk

Remember Me
● The Remember Me memorial project is led by St Paul's Cathedral and open to anyone of any faith, belief or none. Remember Me has the support of HRH The Prince of Wales and other faith leaders in the UK.
● Work has begun at St Paul's for a new dedicated inner portico which provides the entry to the Remember Me memorial space at the Cathedral, and due to open to the public in 2022.
● The Remember Me campaign is being supported by the Daily Mail, who led the fundraising effort to raise £2.7million for the build of the physical memorial. It is also is being generously supported by The Dorfman Foundation. The distinguished Jewish businessman and philanthropist Sir Lloyd Dorfman has also been instrumental in providing leadership and guidance for the project.
● The choristers of St Paul's Cathedral have recorded a special version of Mendelssohn's Lift Thine Eyes, part of Psalm 121, to serve as an anthem for the book of remembrance.
● The hashtag for the campaign is #RememberMe
Website: remember2020.uk
Twitter: @RememberMeMemo
Facebook: https://www.facebook.com/Remember-Me-Memorial-Book
Instagram: @remembermememorial

St Paul's Cathedral
Designed by Sir Christopher Wren in the late 17th century, St Paul's Cathedral is a vibrant church, a national treasure and a London icon. It is the most recent building on a site where there has been a cathedral for London for over 1400 years. Our building provides a space for reflection, discovery, learning and debate. In normal times we welcome over a million people through our doors each year to worship and pray, to sightsee, and to attend concerts, educational events and performing arts. Alongside dedicated clergy and staff, we are sustained by a community of volunteers who welcome visitors, lead tours, ring our bells, maintain our collections and more. We provide comfort and commemoration through our national services, and stand as an enduring symbol of hope – for those of all faiths and none.

London Symphony Chorus
The London Symphony Chorus is one of the UK's leading choirs and is renowned both in the UK and internationally for its concerts and recordings. Formed in 1966 to complement the work of the London Symphony Orchestra, the choir is self-governing and consists of over 200 amateur singers from all walks of life. For more information visit: lsc.org.uk

Howard Goodall CBE Howard Goodall an EMMY, BRIT and BAFTA award-winning composer of choral music, stage musicals, film and TV scores. He is a distinguished music historian and broadcaster. In recent years he has been England's first ever National Ambassador for Singing, the Classical Brit Composer of the Year and was Classic FM's Composer-in-Residence for 6 years. In the 2011 New Year Honours he was appointed Commander of the Order of the British Empire (CBE) for services to music education. Howard Goodall is a patron of the London Symphony Chorus. For more information visit howardgoodall.co.uk

Rambert
Rambert is inspired by the belief that to give brilliant and daring people the chance to inspire others is to give them the power to change the world for the better. As one of the world's most diverse companies of dancers, Rambert transforms everyday spaces by making dance that is awe-inspiring, adventurous, dynamic and relevant, and taking it to its neighbourhood, the nation and the world. Rambert wants to hear the most exciting and radical ideas wherever they may come from and connect with brilliant and daring audiences and participants from all backgrounds. Through performances; dance and wellness classes and courses for people of all ages and abilities; and outreach and community initiatives, Rambert wants to ensure it is inspiring, engaging and relevant to everyone. Rambert's Chief Executive is Helen Shute and Benoit Swan Pouffer is Artistic Director. Rambert is a National Portfolio Organisation of Arts Council England. Rambert's performance and choreography of Never to Forget with the renowned London Symphony Chorus has been made possible thanks to the belief and generous support of Dame Sue Street and Richard Street. With sincere thanks also to all those who have generously supported Never to Forget. To learn more and find out how you can support Rambert visit: rambert.org.uk
For online dance and behind the scenes content, online classes and podcasts visit our online home Rambert Home Studio Facebook: @rambertdance Twitter: @rambertdance

Benoit Swan Pouffer
Benoit Swan Pouffer is Rambert's Artistic Director and an acclaimed choreographer. Born and trained in Paris, he moved to New York where he spent seven years as a principal dancer with Alvin Ailey American Dance Theater. He went on to become the Artistic Director of Cedar Lake Contemporary Ballet, a post he held for 10 years. His tenure at the helm of the company was described by the New York Times as "a New York success story", gaining wide acclaim for introducing a new generation of international choreographers to US audiences, being the first there to commission Sidi Larbi Cherkaoui, Alexander Ekman, Crystal Pite and Hofesh Shechter. Benoit has made dance for companies around the world including Ailey2 and Rambert, films, music videos, and Broadway shows. Recently, he directed Note To Self for Rambert, the last of a 2021 series of innovative livestreamed performances broadcast on Rambert Home Studio to fans around the world. He will be directing and choreographing Peaky Blinders: The Redemption of Thomas Shelby, premiering later this year. His ability to blend artistically stimulating content with commercially popular work has led to critical acclaim.

City of London Sinfonia
City of London Sinfonia (CLS) is rooted in the belief that music and creativity are for everyone. With Creative Director and Leader Alexandra Wood, its musicians bring a uniquely collaborative approach to everything they do, encouraging audiences to engage more fully in the concert experience. The Orchestra is leading the way in creative, collaborative practice in health and social care through its participation programme – the driver of everything the Orchestra does. In the 2020 Royal Philharmonic Society (RPS) Awards, CLS received the Impact Award for its Sound Young Minds project, which provides opportunities to young people in psychiatric hospitals to work together and to express themselves through music. CLS gives over 75 performances each year, performing regularly at the Albany (Deptford), Canada Water Theatre, Southbank Centre's Queen Elizabeth Hall, Southwark Cathedral, and as Resident Orchestra at Opera Holland Park, since 2004. Tours in recent years have included Japan, Ireland, and cathedrals around the UK. Recordings include King of Ghosts with sarodist Soumik Datta (Globe Music, 2017) and Stuart Hancock's We're Going on a Bear Hunt (Sony Classical, 2017) This year CLS celebrates its 50th anniversary through its 'Origin' concert series at Southwark Cathedral, offering colourful programmes that bring together themes established in its Richard Hickox days, such as a commitment to British music and music for voice; continuing its rich tradition of new commissions, while embodying the very best of who the Orchestra is today. cityoflondonsinfonia.co.uk/