Platinum Jubilee celebrations at St Paul's
Platinum Jubilee celebrations at St Paul's
A National Service of Thanksgiving to Celebrate the Platinum Jubilee of Her Majesty The Queen will be held at St Paul's Cathedral on the morning of Friday 3rd June, 2022.
The Service will include bible readings, anthems, prayers and congregational hymns, expressing thankfulness for The Queen's reign, faith and service; desire to foster unity and peace amongst all peoples; and commitment to care for God's creation. 

The service will include a new Anthem by Judith Weir, Master of The Queen's Music, that sets to music words from the third Chapter of the Book of Proverbs.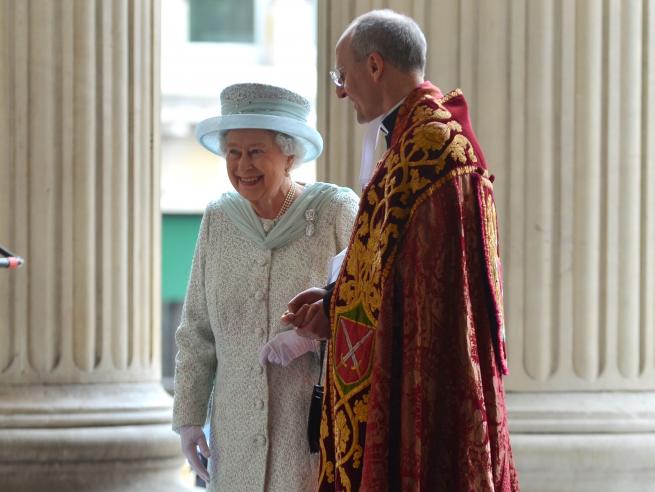 Alongside the Service of thanksgiving, St Paul's will launch a brand new exhibition. Jubilee: St Paul's, the Monarch and the Changing World explores the history of Jubilee celebrations at St Paul's Cathedral across three centuries.

Opening on Wednesday 25th May 2022, the special exhibition at St Paul's Cathedral examines the Jubilee celebrations for King George III, King George V, Queen Victoria and the Silver, Golden and Diamond Jubilees of HM Queen Elizabeth II. 

Using objects from St Paul's extensive Archive and Collections, the exhibition tells the stories of Jubilee celebrations for each monarch, from the Golden Jubilee celebrations of George III in 1809, to the most recent Jubilees for HM Queen Elizabeth II. Visitors can see beautifully embroidered and ornate copes (or ceremonial cloaks) worn by clergy during special services; scrap books collected by staff and volunteers through the years, pictures and paintings from each memorable day and much more. 
Accompanying the exhibition there will be a special programme of events this year including late night openings in July and August. There will also be a community outreach music project, 'Choir for the Queen', which sees St Paul's create dedicated learning resources to enable school children aged 4-15 from across the UK and around the world to share a video singing their favourite hymn as a musical gift for Her Majesty. 
The Dean of St Paul's, the Very Reverend Dr David Ison says
"It is a great honour to hold a Service of Thanksgiving for the Reign of Her Majesty The Queen and to celebrate her 70 years of service to the UK and the Commonwealth. 

"We are also delighted to open a brand new exhibition documenting previous Jubilee celebrations across three centuries. From rich and beautiful textiles to treasured photographs and scrapbooks, the story emerges of the excitement and anticipation of each Jubilee celebration, and the unique role that St Paul's holds in ceremonial occasions. Along with our community outreach programmes and late opening events, our Jubilee exhibition is a fitting way to mark this special occasion."    

Jubilee: St Paul's, the Monarch and the Changing World 
Opening from 25th March 2022
Monday to Saturday, 08.30-16.30 
(10.30-16.30 on Wednesdays)
Entry to exhibition included in sightseeing admission.

For more information, visit www.stpauls.co.uk/platinum-jubilee