Susanna Snyder reflects on Lent and the spiritual practice of letting go of what holds us back from life in all its abundance.
Lent is a season for reflection and preparation for Easter, most often seen as a time for self-denial and repentance. But what if we were to see Lent as a time of letting go instead of giving up?
As the mother of two young children, one of the soundtracks of my last couple of years has been "Let it Go" from the Disney movie, Frozen. In the movie, the main character, Queen Elsa, has magical powers to freeze all that is around her through her hands and because of the damage it can cause, her parents taught her to hide her magic, not to feel anything and to keep herself cut off from others. In a moment of frustration and in front of hundreds of people, her magic escapes through an ungloved hand and dramatically ices the whole land. She flees to the mountains where she sings the song "Let it Go." This song is an expression of her letting go of all that is holding her back from being and expressing the person she most deeply is.
Lent is a time for Christians to let go—to lessen our grip on—all that inhibits our own ability to live the lives that God is calling us to. Letting go is a spiritual practice I have found even more challenging than giving up. It requires courageous honesty with oneself as well as determination, because letting go is not a "one time and it's done" kind of practice. It involves prayer and companionship in the process. It seems to me that when he was tempted in the desert, Jesus was letting go more than giving up. He was letting go of the possibilities put before him of supreme power, self-sufficiency, adulation and wealth. Letting go is about not grasping, not holding onto. It is about prising open our fist.
As we enter into Lent, I wonder what it is that we might want to or need to let go of. What is it that you are grasping tightly that is actually inhibiting who you are? Is it attachment to particular possessions or people or assumptions? Is it investment in a particular image of ourselves or understanding of the church? Or is it something else entirely?
There's a Greek word that can help us to understand more about what it means to let go. This word is kenosis and it literally means emptying, and it's the key to understanding Jesus' life and death. In Philippians 2:6-8, we read that Jesus:
though he was in the form of God,
did not regard equality with God as something to be exploited,
but emptied himself,
taking the form of a slave,
being born in human likeness.
And being found in human form,
he humbled himself and became obedient to the point of death—
even death on a cross.
In becoming human and enduring the crucifixion, Jesus was relinquishing the full extent of his godly powers and privileges, in order to allow himself to experience the depths of human suffering and death. Jesus let go, self-emptied, relinquished, so that we might come to know God more fully and live the lives that she dreams for us.
But, why? What is it that this letting go—this emptying—this relinquishing does? Theologian Sarah Coakley suggests that this is actually about "space-making". Letting go creates space for something new—a new way of being, a new way of relating or loving or working—that can help us and all those around us to flourish. Far from being a deadening denial, letting go is rather about life-giving creativity. Letting go is full of the energy of new possibility.
We all need space. Space to breathe and grow. Space for dreams and to re-imagine. Space to re-connect with ourselves and with one another. Space for God and for meaning-making. Space for loving. Space for dying well. And in order to create this space, we need to do some letting go—some emptying—so that we are not just responding to what currently demands our attention.
Just as Lent is a time to ask ourselves what we need to let go of, perhaps it is also a good time to ask ourselves: What is it that we wish and need to create space for? What do we long for that would make for flourishing life for us, for others and our planet?
Lent has primarily become associated with individual practices. I choose, personally, what it is that I am going to give up. But, what if we were to think together about what we—collectively—should let go of? Letting go at the individual level is important, but it is not enough. Christian faith is not primarily about a private set of beliefs or practices. It is rather about a way of being together that works towards the good of all.
Dorothee Soelle, a twentieth century German theologian, suggested that there are three things people living in affluent, Western societies need to let go of, three sins we are all caught up in. They relate to ego, possessions and violence.
Our society is individualistic—it's all about me making my way in the world, working towards my career and building up my resources, about securing my—or perhaps my close family's—happiness and place in the world.
Our neoliberal capitalist economy depends on nourishing a desire for possessions—which, in turn, feeds our individualism. In order to shore up our ego and hold onto our possessions, we find ourselves - directly or indirectly - practising violence. We fight wars for oil supplies, land or power or we do verbal violence to others, stereotyping those we are afraid of, to justify their exclusion from accessing the goods we enjoy. And we are plundering our fragile, beautiful, resilient planet in our insatiable desire for more things. The war in Ukraine is only the most recent example of the deathliness of which we humans are capable.
In refusing to turn stones into bread and refusing all the kingdoms of the world laid before him during his temptations, Jesus was himself showing us how to let go of ego, possessions and the power that leads to violence (Matthew 4:3-11).
As we consider what it might mean to let go this Lent, perhaps we should be asking ourselves: What might consuming less, possessing less look like? Are there ways in which I can reduce my participation in the violence that I am—often in spite of myself—caught up in doing to others and to our planet? And even to myself?
I've been extolling the virtues of letting go. But I want to insert a serious health warning at this point.
The call to let go can become abusive. It becomes so when people with power and privilege demand that others let go, relinquish, give of themselves. The history of colonialism is one of powerful, White westerners going to other countries and demanding that those living there gave them gold, wealth, resources—and even their lives in the form of slavery. Then, those who were forced to let go were told that it was for their own good because Christianity demanded self-sacrifice and self-giving. That is abuse.
Colonialism and subjugation continue today. For those among us who experience oppression—because of our nationality, racial/ethnic identity, gender, sexuality, age or dis/ability—letting go may look different than it does for those among us who are largely comfortable and privileged.
Letting go for someone who is seen as less than may mean letting go of an image of herself as someone who is worthless—an image she may have absorbed through societal messages and treatment. It may mean claiming space, speaking up for herself, asking for more. I have been struck by the words of American playwright and poet Ntozake Shange in For colored girls who have considered suicide/When the rainbow is enuf. She tells the stories of seven women experiencing oppression in a racist and sexist society. She writes:
i found god in myself
& i loved her
i loved her fiercely.
This is also a profound expression of letting go—a letting go of a self-image that was inhibiting her full and flourishing life. It reminds me of the moment when Hagar - a slave who ran away from the cruelty of her mistress Sarah into the wilderness - named God: "You are El-roi", meaning "God who sees" (Genesis 16:13).
We need to be open to a whole range of different possibilities of what letting go means. But what we all share in letting go is participation in a demanding, rich and renewing spiritual practice that creates space for the new life that God longs to bring.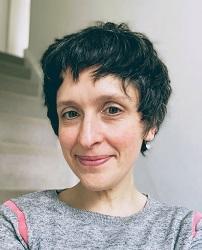 The Revd Dr Susanna Snyder is Lecturer in Ethics and Theology and Academic Dean at Ripon College Cuddesdon.