Volunteering expectations
Volunteering expectations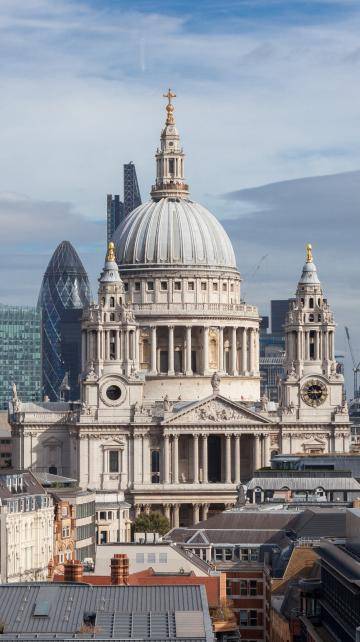 Our volunteer agreement is a clear statement of what a volunteer can expect from us, and what we hope for from you as a volunteer with us.
Volunteer agreement
The Chapter welcomes you as a valued member of the St Paul's Cathedral community. In becoming a volunteer, you join over 500 people who together work to support our mission of enabling people in all their diversity to encounter the transforming presence of God in Jesus Christ. Across the Cathedral we welcome those of all faiths and none and expect that all our people will be in sympathy with, and in their work support, our Christian aims and mission.
Further details of our mission, purpose and values are set out below.
Your role profile(s) accompanies this volunteer agreement.
We will
do our best to make your experience with us enjoyable and rewarding
treat you fairly and with respect and dignity according to our mission statement and values
ensure you understand your role and know how to perform it
manage your contribution including providing induction, ongoing development and keeping you up to date on relevant
make sure you have a named contact who will support and encourage you
consider your opinions on your role and keep you informed on any changes to it
make your environment as safe as possible
provide you with necessary training to undertake your roles
respect your privacy and protect your personal information
respond to concerns or complaints as outlined in our policies.
We ask you to
act according to our mission and purpose, treating colleagues and visitors fairly, speaking and behaving with respect, and recognising the needs of individuals
respect and help us to deliver our 'WREN' values, listed below
adhere to our commitment to diversity and equality
be tolerant of each person's differences, whether staff, volunteer, clergy or visitor
act with integrity and work together with other volunteers, staff and Ministers, sharing knowledge and information with them when necessary and appropriate, reporting any concerns or complaints in a timely manner
work safely within agreed practices and read and follow handbooks, policies and procedures relevant to the Cathedral and your role
follow instructions given to you by Cathedral staff
dress appropriately for your role
learn and perform your role(s) to the best of your ability according to the role profile
meet the time commitments you have chosen and let your staff and/or volunteer team lead know if you are unable to attend
attend or complete required training, which may be outside your usual time for volunteering
respect Cathedral confidentiality, including in contact with the media. This will include adherence to our social media policy.
This agreement is not intended to be a legally binding contract between us, and neither of us intends any employment relationship to be created now or in the future. If either party feels that the agreement is no longer mutually beneficial, the agreement will be reviewed and after discussion may be brought to an end.
Our mission 
St Paul's Cathedral seeks to enable people in all their diversity to encounter the transforming presence of God in Jesus Christ.
Our purpose
The Cathedral is a community of worship and mission with a particular role in supporting the Bishop of London in her work across the diocese and beyond. We are above all a living Christian church, inspired by the love of God in Jesus Christ to offer welcome, prayer and learning. Together, we are entrusted with the outstanding building and the iconic dome, the fruit of human skills offered to the glory of God. We will curate and fashion the building on behalf of current and future generations as a sign of hope for all. We will bring together all our resources to make a tangible difference to people's lives, shaping policy and attitudes to tackle social injustice, specifically in the area of young people's mental health.
Our values
Welcoming – We all offer a warm inclusive welcome to everyone: our colleagues, volunteers and each one of our visitors.
Responsible – We are people of integrity, each responsible for part of the whole of the Cathedral's work, looking after the Cathedral for the next generation.
Engaging – We seek to engage everyone in our mission, at the Cathedral, within London and across the world.
Nourishing – As a community we work together in a learning environment, aiming for the highest possible standards in everything we do whilst acknowledging that we cannot do everything.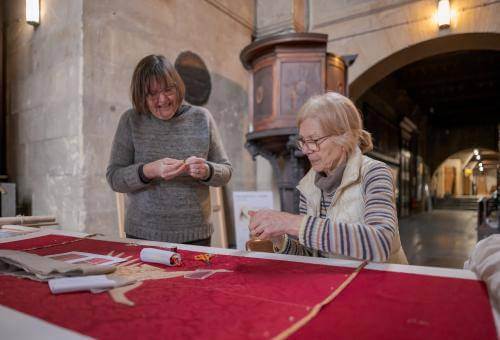 Volunteer with us
Join our sociable and supportive community of volunteers and be surrounded by incredible architecture, history, collections and faith in the heart of the City.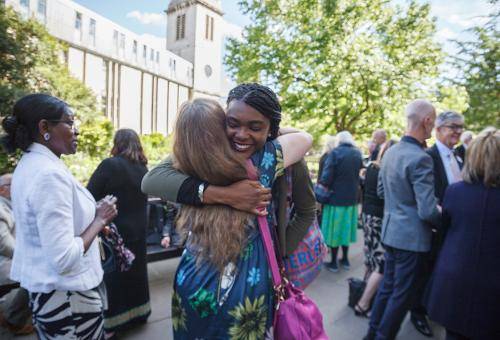 Volunteering FAQ
Have a question about volunteering for us? From time commitments to accessibility, find your answers here.