Handel's Messiah returns to St Paul's after two-year pause
Handel's Messiah returns to St Paul's after two-year pause
St Paul's announces Handel's Messiah on 30th March 2022, the first time the concert has been performed at St Paul's Cathedral since the start of the COVID-19 pandemic.
Performed by the world-renowned Choir of St Paul's Cathedral, the Cathedral Chorus and the City of London Sinfonia, Messiah is one of Handel's most famous and best-loved works. The rousing 'Hallelujah' Chorus is one of the most famous pieces of Baroque choral music. The performance will take place in the beautiful interior of St Paul's Cathedral under the iconic dome.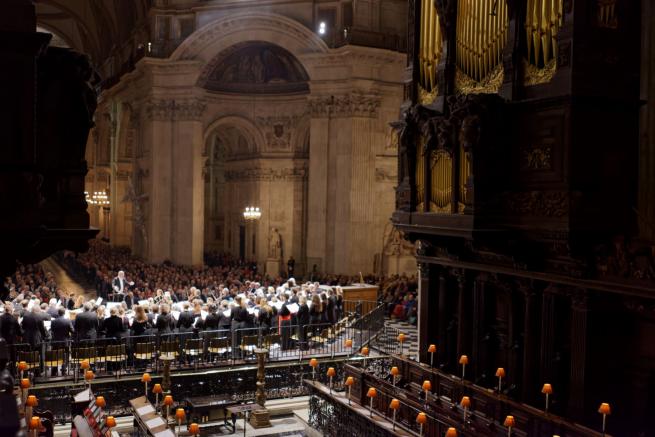 The solo roles will be taken by the Choristers and Vicars Choral of St Paul's and the performance will be directed by Andrew Carwood.
Messiah reflects on the birth, death and resurrection of Jesus as foretold in Scripture. Although previously performed during Advent at St Paul's, the Messiah was first performed in Eastertide in 1742 and is fitting for the Season of Lent, a period dedicated to remembering the passion, death and resurrection of Jesus our Saviour.  

Andrew Carwood, Director of Music at St Paul's Cathedral says "We are delighted that we are able to perform Handel's Messiah again in 2022. The concert is one part of St Paul's rich and internationally renowned music tradition that spans the centuries. Due to restrictions and the financial impact of the COVID-19 pandemic, we have been unable to present the concert for the last two years, so it is wonderful to see Messiah return to St Paul's once more." 

Elaine Baines, Acting Chief Executive of City of London Sinfonia says "Messiah has always been a highlight of the year for our musicians and it was greatly missed last year, so we are delighted to be back to join the Cathedral Choir and Chorus for this Lenten-tide performance. City of London Sinfonia is celebrating its 50th anniversary this year and we are immensely proud of our long association with St Paul's Cathedral."
 
Tickets are available to buy from the St Paul's Cathedral website 
Handel's Messiah
St Paul's Cathedral, St. Paul's Churchyard, London, EC4M 8AD
Wednesday 30th March 2022 6.30pm – c.9pm
Tickets £10 | Unreserved seating

Notes to editors
For more information, including complimentary press tickets, and images, please contact the St Paul's Cathedral press office on 020 7246 8321 press@stpaulscathedral.org.uk

St Paul's Cathedral
Designed by Sir Christopher Wren in the late 17th century, St Paul's Cathedral is a vibrant church, a national treasure and a London icon. It is the most recent building on a site where there has been a cathedral for London for over 1400 years.
Our building provides a space for reflection, discovery, learning and debate. In normal times we welcome over a million people through our doors each year to worship and pray, to sightsee, and to attend concerts, educational events and performing arts. 

Alongside dedicated clergy and staff, we are sustained by a community of volunteers who welcome visitors, lead tours, ring our bells, maintain our collections and more. We provide comfort and commemoration through our national services, and stand as an enduring symbol of hope – for those of all faiths and none. 

St Paul's Cathedral Choir
There has been a Choir of boy Choristers and Vicars Choral at St Paul's for over nine centuries, and the present Choir consists of about 30 singing boys and 12 adults. The Choir is at the heart of the daily round of worship in the Cathedral, singing daily Evensong and three services on a Sunday during term time. In addition, the Choir takes part in a number of services of national importance, many of which are broadcast around the world. Most recently these have included the National Service of Thanksgiving for HM The Queen's 90th Birthday in 2016 and the Grenfell Tower National Memorial Service in 2017. The Choir has given concerts in the UK, Europe, Japan and North America, and regularly commissions new works from eminent composers. The Choir is led by the Director of Music Andrew Carwood, and is supported by a team of Organists led by Acting Organist and Assistant Director of Music Will Fox.

City of London Sinfonia
City of London Sinfonia (CLS) is rooted in the belief that music and creativity are for everyone. With Creative Director and Leader Alexandra Wood, its musicians bring a uniquely collaborative approach to everything they do, encouraging audiences to engage more fully in the concert experience. The Orchestra is leading the way in creative, collaborative practice in health and social care through its participation programme – the driver of everything the Orchestra does. In the 2020 Royal Philharmonic Society (RPS) Awards, CLS received the Impact Award for its Sound Young Minds project, which provides opportunities to young people in psychiatric hospitals to work together and to express themselves through music. CLS gives over 75 performances each year, performing regularly at the Albany (Deptford), Canada Water Theatre, Southbank Centre's Queen Elizabeth Hall, Southwark Cathedral, and as Resident Orchestra at Opera Holland Park, since 2004. Tours in recent years have included Japan, Ireland, and cathedrals around the UK. Recordings include King of Ghosts with sarodist Soumik Datta (Globe Music, 2017) and Stuart Hancock's We're Going on a Bear Hunt (Sony Classical, 2017) 
This year CLS celebrates its 50th anniversary through its 'Origin' concert series at Southwark Cathedral, offering colourful programmes that bring together themes established in its Richard Hickox days, such as a commitment to British music and music for voice; continuing its rich tradition of new commissions, while embodying the very best of who the Orchestra is today. cityoflondonsinfonia.co.uk