Service held to mark the death of Her Majesty Queen Elizabeth II
Service held to mark the death of Her Majesty Queen Elizabeth II
A Service of Prayer and Reflection on the death of HM Queen Elizabeth II was held at St Paul's on Friday 9th September at 6pm.
Over 2,000 free tickets were given to the public to attend the service on a first come first served basis.

A half-muffled single bell tolled the start of the service, and the congregation listened to the live audio relay of His Majesty The King's Address.

The Bidding was given by the Dean Designate of St Paul's, the Very Reverend Andrew Tremlett.

The Address was given by The Right Reverend and Right Honourable Sarah Mullally DBE, Bishop of London, as Dean of the Chapels Royal. A copy of the Address can be found on our website.

The Blessing was given by the Most Reverend and Right Honourable Justin Welby, Archbishop of Canterbury and Primate of All England.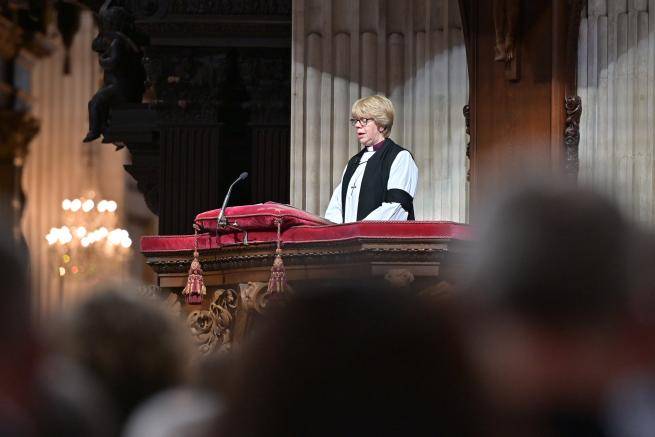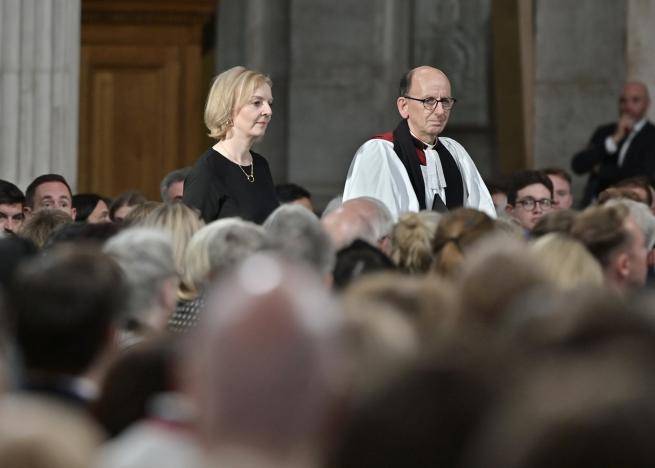 The music was performed by the St Paul's Cathedral Choir, conducted by Andrew Carwood, Director of Music, with organ music from Martin Ford, Acting Sub-Organist before the service. Will Fox, Acting Organist and Assistant Director of music played during the Service. The Service included a Piper's lament.

The readings were read by Canon in Residence, the Revd Canon Dr Neil Evans and The Rt Hon The Prime Minister Liz Truss.

A half-muffled single bell sounded the end of the service. Earlier in the day at noon, Great Tom, The State Bell was tolled for the number of years of HM The Queen's life.
The Service was broadcast live in the UK on BBC1 and is available to watch in the UK on BBC iPlayer.

St Paul's will remain open for worship and private prayer only from Saturday 10th September to Monday 19th September, the day of HM The Queen's state funeral at Westminster Abbey.