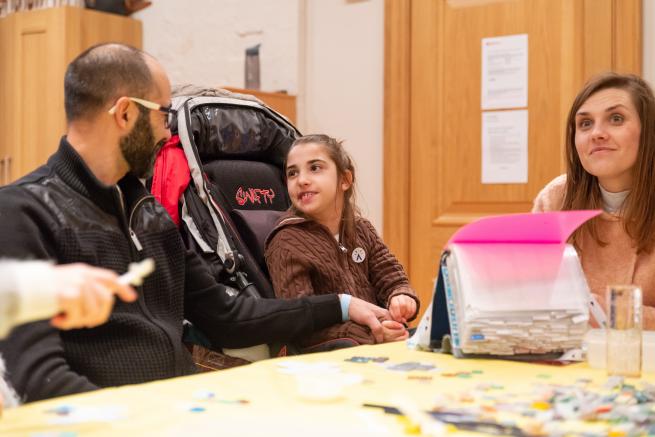 SEND students
We welcome any and all students at our in-person and virtual visits, and hope to provide access for all.
If you are taking part in our sessions with students who have Special Educational Needs and Disabilities (SEND), we have extra support and resources on hand to support their learning.
Share your students' needs with us
Please let us know of any visual, hearing, mobility and learning needs your students may have when booking and we will put appropriate support in place.
There are options to provide this information on our booking portal or you can contact us at learning@stpaulscathedral.org.uk to discuss your students' needs. We can tailor our workshops and are always happy to work with teachers to adapt our content in order to meet each group's different aims and objectives.
Prepare for your visit
Our accessibility page gives details on all the features we have at the Cathedral to support those with disabilities. These include access ramps and lifts, a hearing induction loop and accessible toilets. This page also provides information about the size restrictions for our lifts and ramps, for students who use wheelchairs and mobility scooters.
Use our Access to Learning Bundles
For in-person visits, we can provide one Access to Learning Bundle per class. These bundles include:
ear defenders, timers, magnifiers, torches, squidgy shapes and fidgets
photo booklets, reading windows, visual story and large print images
specific supports for themed including; object handling, drawing materials, sound boxes and scent boxes.
If you are a self-guided group – or are attending a family event at the Cathedral – and would like to use our Access to Learning bundles, please get in touch with us at learning@stpaulscathedral.org.uk and we can let you know about their availability.
Take a look at our virtual tour
We know some students will find it helpful to understand what to expect when they come to St Paul's. For this reason, we have created a short virtual tour of the galleries, which uses sound, image and clear, simple language to introduce some fascinating aspects of our building.
In addition, our learning library features a large number of resources for teachers, organised by key stage, which can be used as part of visits or in the classroom.