St Paul's and our land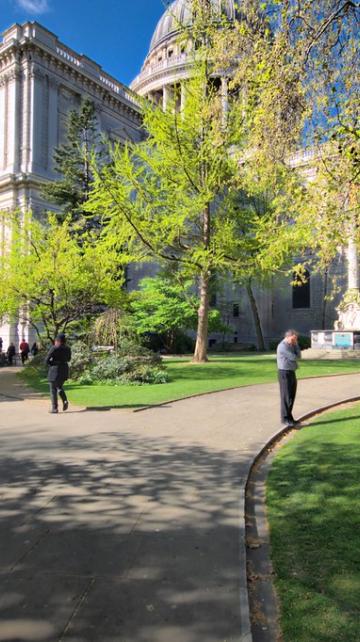 Find out where the boundaries of St Paul's land lie, and how to contact us if you have an enquiry about our land.
St Paul's reserves the right to control what is permissible on its own land – especially in front of and on the West steps of the Cathedral, which are the spiritual threshold of the church and which are kept for the quiet and peaceful use of visitors.
We will seek police advice, and if necessary assistance, should demonstrations or other gatherings or activities ignore the Cathedral's need to protect its frequent Christian church services, its visitors, staff and congregation from disturbance.
What land does the Cathedral own?
The Corporation of the Cathedral Church of St Paul in London has freehold ownership of the following land in London and in Essex:
St Paul's Cathedral
The Chapter House
Amen Court
Three arable farms and some domestic properties for rent in Tillingham, Essex.
The Cathedral gardens and grounds
The horseshoe of paved land inside the marble bollards around the West steps of the Cathedral and the statue of Queen Anne is all Cathedral land.
The Cathedral's railed gardens are jointly managed with the City of London open spaces officers.
The cobbled roadway within the chained road entrance from Ludgate Hill is registered as City of London land.
Security of all the properties, the chained road entrance from Ludgate Hill and the Churchyard Gardens in London are the Cathedral's responsibility.
Planning and access requests
Planning consents for the Cathedral are managed with the Cathedrals Fabric Commission for England (CFCE). Any consents for the Chapter House and Churchyard Gardens require the additional or separate consent of the City of London planning officers. To make a request to access the Cathedral's land, contact 020 7246 8350 (Monday to Friday 9am – 5pm) or 020 7248 6233 (at any other time).