Mother and Child: Hood, by Henry Moore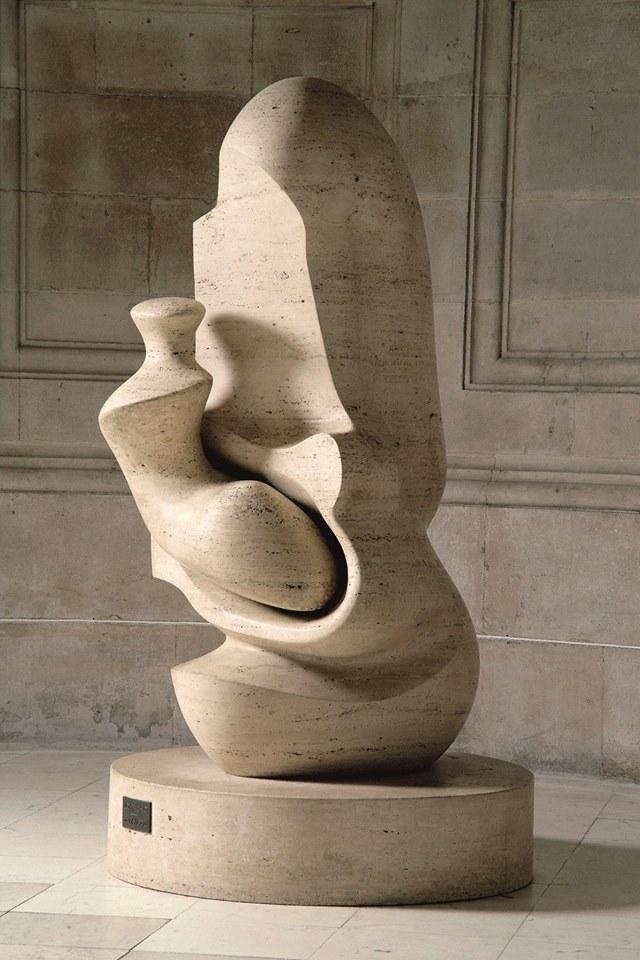 Photograph of Mother and Child: Hood by Peter Smith.
Mother and Child: Hood by Henry Moore
The arrival in the Cathedral of a groundbreaking sculpture by Henry Moore initiated a new relationship with contemporary art which continues to this day.
The smooth organic form of Henry Moore's Mother and Child: Hood seems to invite visitors to stroke its marble surface. It is the culmination of Moore's reflections over many years of the mother and child relationship.
Three faces of motherhood
Installed in the Cathedral in 1983, it was Moore's final large scale work before his death in 1986. The design was worked up from maquettes (scale models of an unfinished sculpture), a number of which can be seen on the Henry Moore foundation's website. 
Moore made the sculpture specifically for its location in the Minor Canons' Aisle.  The work presents three stages of motherhood: conception, gestation and parenting. These gradually reveal themselves as you walk around the sculpture. 
'My sculpture is becoming less representational, less an outward visual copy, and so what some people would call more abstract; but only because I believe in that in this way I can present the human psychological content of my work with the greatest directness and intensity.' – Henry Moore, 1967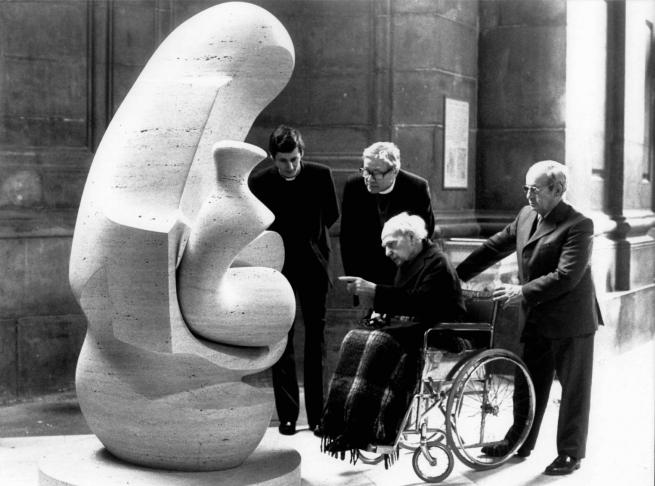 Henry Moore visits his statue of Mother and Child; with Dean Alan Webster (Centre) and Minor Canon Philip Buckler, 27th March 1984 (Ref. No. 1948).
A contemporary piece
Mother and Child:Hood seems entirely at odds with the controlled geometry of the building's architecture, but is, at the same time, still at home in its niche. 
The undulating back of the work owes its shape to an animal bone which Moore had in his studio, while the front offers a towering mother figure, whose robe provides a protective enclosure for the cotton-reel headed infant on her knee. This design references Romanesque and Renaissance images of the Virgin Mary and Baby Jesus. 
Following the success of this installation, the Cathedral began to recognise the potential of contemporary artists contributing to its working life. Some of the best known British contemporary artists of the last twenty years have exhibited in the building – including Yoko Ono, Anthony Gormley, Mark Wallinger and Sokari Douglas Camp. 
Explore our interactive map of St Paul's to see the location of Henry Moore's piece, alongside other key pieces of art and monuments on the Cathedral floor and in the Crypt.
More from our Collections