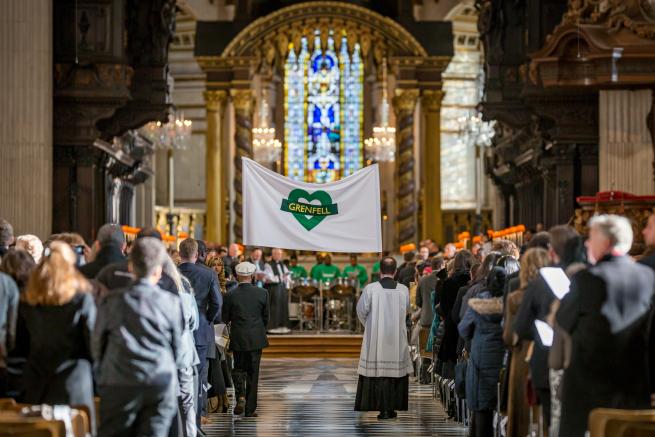 Photograph of Grenfell memorial service by Graham Lacdao.
Grenfell Tower
In the early hours of 14 June 2017 fire broke out on the fourth floor of Grenfell Tower in west London. The flames spread to the 24th storey in less than half an hour. 
The tower was a residential block housing people from all over the world. The building was all but destroyed killing 53 adults and 18 children, including an unborn baby. Warnings had been ignored and a catalogue of errors led to the tragedy and its magnitude. On 14th December 2017, St Paul's held a National Memorial Service for the 72 victims.
Together in mourning 
More than 1,500 people attended the service which paid tribute to those who died, those who survived and the response of the local community. The organisers at St Paul's worked closely with Dr Graham Tomlin the Bishop of Kensington, the Al Manaar Mosque, survivors, the families of the victims and the wider community on the arrangements. 
 
As part of the service, a pre-recorded sound montage of anonymous voices from the Grenfell community was played, describing their experiences and the aftermath. It included voices calling for justice – some critical of the council and government response. Music was provided by Syrian musician Rihab Azar, the Ebony Steel Band and an Islamic girls' choir from Al Sadiq and Al Zahara schools, who sang "In Sha Allah", meaning God willing.
A banner, made by the Cathedral broderers and incorporating the "Grenfell heart", was carried by Imam Fahim Mazhary of Al Manaar Mosque and Fr Gerard Skinner, priest of St Francis of Assisi Roman Catholic Church in Notting Hill. Children from primary schools in the Grenfell area scattered green hearts, some bearing the names of the victims, on the Cathedral dais 
 
As well as survivors and bereaved families, the service was attended by the Prince of Wales, the Duchess of Cornwall, the Duke and Duchess of Cambridge and Prince Harry. Others in attendance included the then Prime Minister, Theresa May and the then Mayor of London, Sadiq Khan. The singer Adele and the actor Cary Mulligan, who helped to raise funds in the aftermath, also attended.  
The struggle for justice
Bishop Tomlin described the service as an opportunity for the suffering of the residents to be recognised and to sense that the wider nation had come together to recognise their continued struggles for resolution. He said:
 
"Today we ask why the warnings were not heeded; why a community was left feeling neglected, uncared for, not listened to … Today we hold out hope that the public inquiry will get to the truth of all that led up to the fire at Grenfell Tower … and we trust that the truth will bring justice." 
 
A public inquiry is ongoing