St Martin of Tours by Hughie O'Donoghue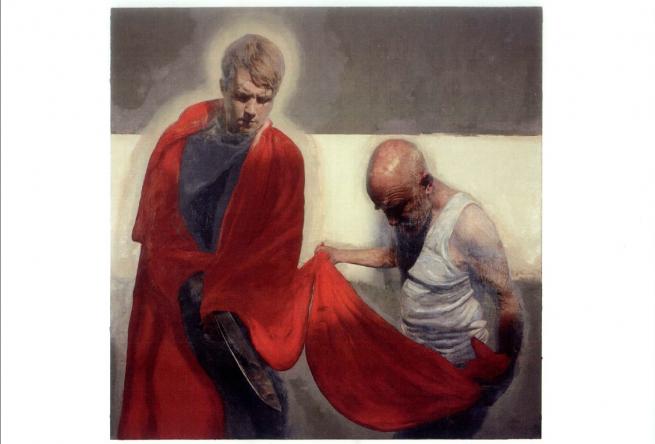 'St Martin Divides His Cloak' Hughie O'Donoghue, 2018.
St Martin of Tours by Hughie O'Donoghue
A painting commissioned by the Imperial Society of Knight's Bachelor brings a contemporary take on a well-known moment in the life of St Martin.
The Order of the Imperial Society of Knights Bachelor was founded in 1908 to represent knighted individuals not affiliated to a specific order of chivalry. The society was granted the title Imperial by King George V as its remit extended to the British colonies. 
In 2005, the Cathedral provided a chapel for the Society and the Order commissioned a new altarpiece for the chapel in 2018 – a painting by Hughie O'Donoghue, celebrating the life of St Martin of Tours, the patron saint of the Order.
The legend of St Martin
The vivid oil painting tells a story associated with St Martin. As the son of a veteran officer, Martin was required to join a Roman cavalry force. One day, as he was approaching the gates of the city of Amiens, he met a scantily clad beggar. He cut his military cloak in half to share with the man. That night, Martin dreamed of Jesus wearing the half-cloak he had given away. 
Martin later renounced military activity – telling his commanding officer 'I am the soldier of Christ: it is not lawful for me to fight' – and became a monk and hermit. Although he was very reluctant, he was ordained to be a a Bishop in AD 371, after being told to come to Tours to attend to someone who was sick, and instead being brought to church to be consecrated.
In one version of this story, St Martin hid in a barn of geese to try and avoid the ceremony, but the noise of the birds gave him away. It is for this reason that the goose became a symbol of the saint, and a custom of eating goose on St Martin's day was established in France and later Sweden.
The painting
O'Donoghue's work depicts Martin dividing an imperial scarlet cloak for a man who might be seen at any time in one of our streets today. Martin sees the dignity of the man as well as his urgent need. The story exemplified that what is done to the most vulnerable in our world is done to Christ. 
Hughie said of the commission: 
'The challenge, as I see it, is to make a painting of St Martin and the Beggar which is compelling and beautiful but essentially relevant and believable in the 'here and now'.'
More from our Collections