Installation of the new Dean of St Paul's
Installation of the new Dean of St Paul's
The Very Reverend Andrew Tremlett was installed as Dean of St Paul's by the Bishop of London, the Right Reverend and Right Honourable Dame Sarah Mullally during Choral Evensong at 3 pm on Sunday 25th September. Andrew succeeds the Very Reverend Dr David Ison who has retired after ten years' service to St Paul's.
The service was attended by Her Royal Highness The Duchess of Gloucester and the Lord Mayor of London Alderman, Vincent Keaveny. The Service was attended by representatives of the City of London, Diocese of London, Durham Cathedral and others.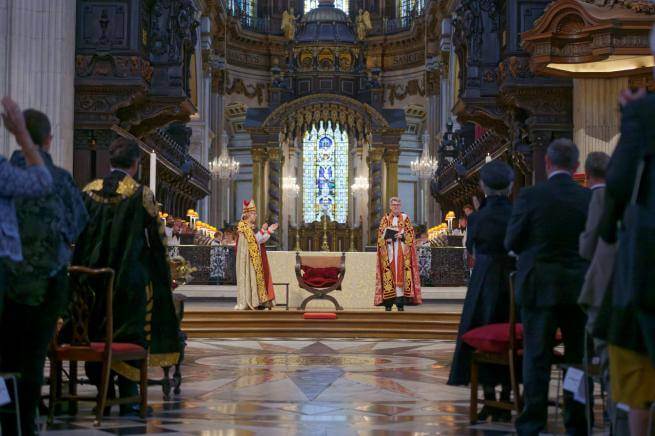 Dean of St Paul's, the Very Revd Andrew Tremlett, said: "I am delighted to be installed as Dean of St Paul's, and thank David Ison for his faithful service to the Cathedral during challenging times. I hope to draw on my experience in parish life, chaplaincy and at some of England's great churches - Bristol Cathedral, Westminster Abbey and Durham Cathedral - to help rebuild life at St Paul's as the global economy reopens. An international outlook is essential for me and my faith has been deepened through my engagement with the Missions to Seafarers around the world, as well as a keen interest in inter-faith dialogue. As the mother church of the Diocese of London, St Paul's has an integral role in reaching Londoners and beyond."
Born in Devon, Andrew was appointed Dean of Durham Cathedral in 2016 and was previously based in London between 2010 and 2016, when he was Rector of St Margaret's Church at Westminster Abbey. In 2012 he established the Westminster Abbey Institute, working with Public Service Institutions and Parliament Square to support ethics in public life. Earlier in his career, Andrew served as a Curate in Torquay from 1989 to 1992 and then Chaplain to the Mission to Seafarers, and Assistant Chaplain to the Anglican Church in Rotterdam. From 1995 to 1998 he was Team Vicar in Fareham before becoming Chaplain to the Bishop of Portsmouth, and a Parliamentary Research Assistant and Secretary to the Church of England's Doctrine Commission. From 2003 to 2008 he was Vicar of Goring-by-Sea in Chichester Diocese and then Canon Residentiary and Keeper of the Fabric at Bristol Cathedral where he was Acting Dean.