Labyrinth Evening
28/11/2023Time6:00pm - 8:15pm
Tickets
Free with a ticket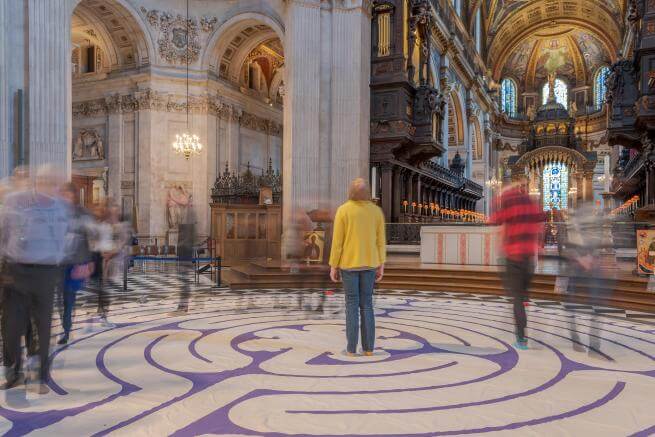 Tickets on sale from 8am on 12th September.
Exploring sacred space.
Come and walk a Labyrinth under the magnificent Dome of St Paul's. Experience Wren's sacred space created to inspire awe and wonder. Enjoy the tranquillity and stillness of the Nave and Transepts in the early evening. You are also welcome to join the daily service of Evensong beforehand at 5pm and conclude your experience with a short service of night prayer at 8pm.
You will receive a short written explanation about labyrinths and suggestions for how to make the most of your experience. Staff will be available to help you and answer any questions.
When you register you will be asked to choose which timed slot you would like to attend - this is the time that you will be able to walk the Labyrinth but you will be able to enter the Cathedral at 4.45pm for the 5pm Evensong, or at any time after 6.10pm.
Anything else I need to know?
We'll ask you to take your shoes off to walk the Labyrinth so you might want to wear your best socks!
Your ticket will allow you into the Cathedral to walk the Labyrinth and explore the Nave and Transepts but the rest of the Cathedral will be closed so it doesn't allow you access to the Galleries or to an audio guide.