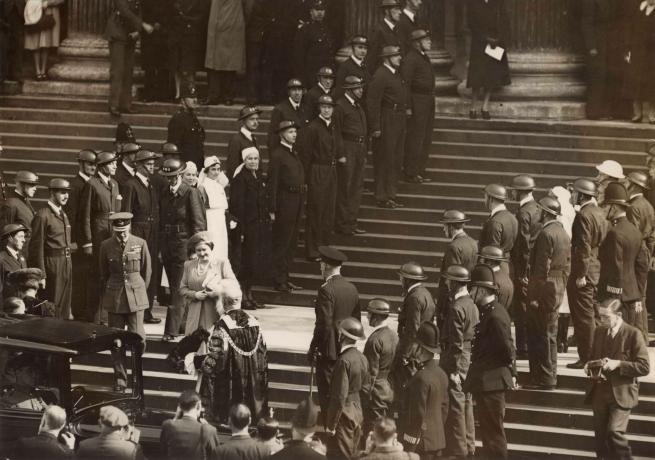 HM Queen Elizabeth the Queen Mother on the West steps, flanked by members of the St Paul's Watch, 1945 (Ref. No. 1615)
The best club in London
The Watch were a hard-working, cheerful group.
In between the sirens and drills, members formed a strong friendship, and it was this that led to the Watch becoming known as 'the best club in London'.
At a time when members of the Watch may not have been able to spend much time with their families, the Cathedral became a welcome home from home. They slept and had their meals there, with one Watch member later recalling that, in spite of the air raids, he always felt safe at the Cathedral.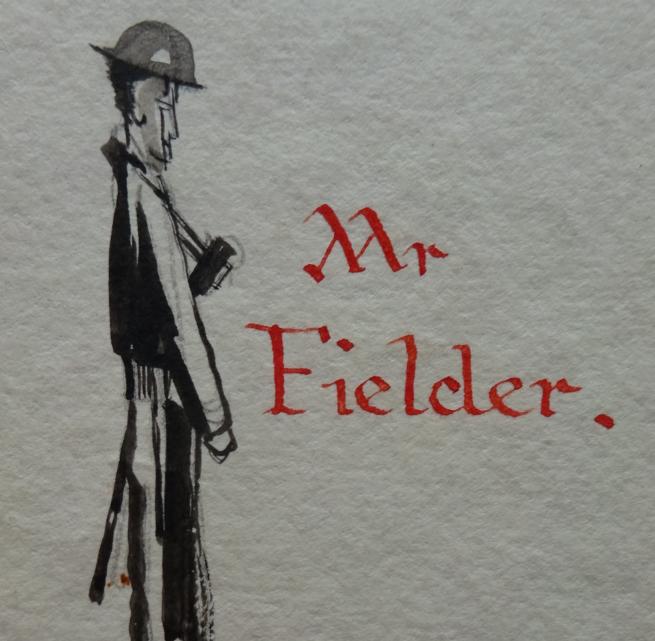 A sketch of Watch member G. H. Fielder, by Kenneth Hobson. Image courtesy of Sarah Hill
Companionable spirits
The Watch usually volunteered one night a week. The Wednesday team were led by architect A. S. G. Butler, and the team members became known as 'Butler's Babies'.
Butler's memoir, Recording Ruin, published 1942, provides a humorous and evocative description:
'Many of us knew one another and nearly all us were middle-aged….Dressed up as firemen of a sort in dark blue overalls, tin hats, heavy belts with massive buckles, axes, goggles and all the rest of it, we might belong to any period of history...We are looked after in all material things and constantly comforted by Gerald Henderson, the Cathedral Librarian. He seems to be made exactly for the job. Full of knowledge, very human and loving a story, he cossets us like the perfect matron of an expensive prep. school.'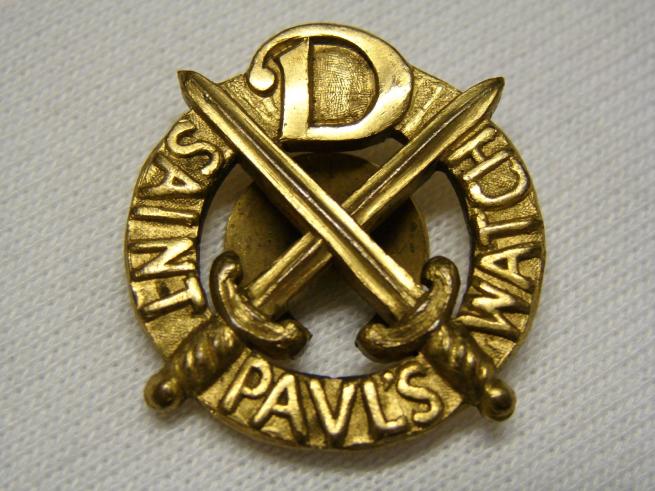 An example of a St Paul's Watch badge (Ref. No. 4060)
A sense of humour
The Watch came up with nicknames for one other, as well as the various corridors and staircases they would climb on their way to the roof-spaces, 'Shin Bone Alley' being a particular favourite.
Members would also make drawings and poems about each other, no doubt shared while enjoying a much-needed cup of tea in their Mess Room in the Crypt. 
Lastly, there were the chevrons and badges they would be awarded after achieving a certain number of hours of volunteering, and these were worn with pride. The badge had its origins in the ones made for the Watch during the First World War, and is the precursor to the badge worn by Friends of the Cathedral today. 
More on the story of the Friends