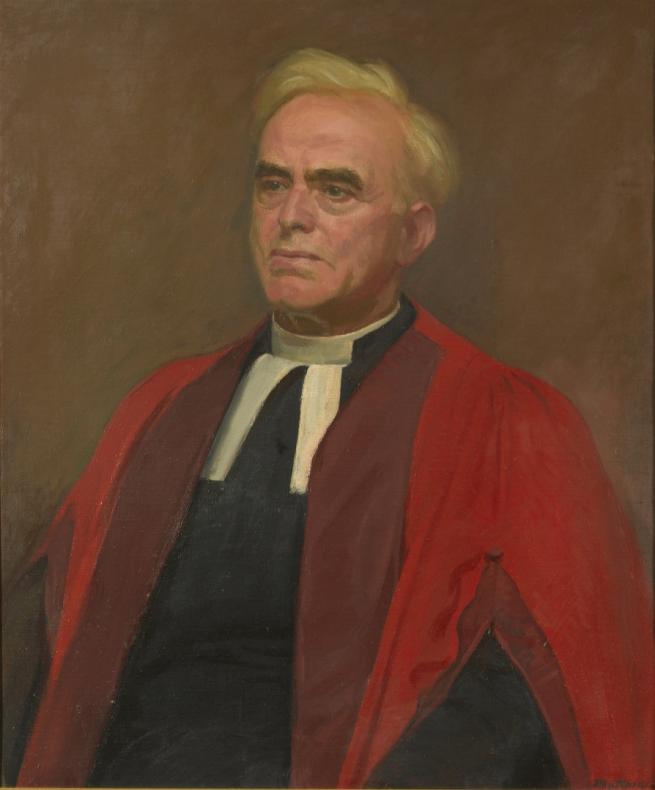 Portrait of Dean Walter Matthews, by James Batemen, 1957 (Ref. No. 51)
Dean Walter Matthews
Walter Robert Matthews was born on the 22nd September 1881 in Camberwell. Educated at Kings College London (KCL), he was ordained a deacon in 1907 and a priest in 1908.
After a successful early career, Matthews was appointed Professor of the Philosophy of Religion at KCL, and became Dean of the College in 1918. In 1931 he became Honorary Chaplain to the King and the Dean of Exeter Cathedral, finally becoming Dean of St Paul's in 1934.
A member of the Modern Church Union, a society aiming to promote liberal values within the Church of England, Matthews was a reformer, who as Dean of St Paul's was not afraid to challenge the status quo.
Upon arrival, he worked to transform St Paul's into a vibrant centre of worship and welcome. He overhauled the Cathedral's finances and record-keeping, and was responsible for many practices that continue today, including the installation of the Christmas tree and decorations.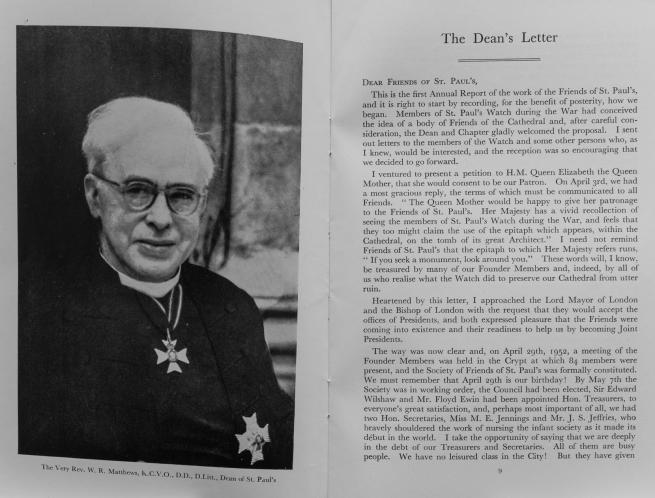 Photograph of Dean Matthews as featured in the Record of the Friends, 1953
'Comradeship and friendship'
Matthews' devotion to the Cathedral was fully demonstrated at the outbreak of the Second World War. Working with the Surveyor to the Fabric Godfrey Allen, he brought back the St Paul's Watch and became an active member himself, helping to operate the internal telephone system on a regular basis.
The community spirit of the Watch was of great importance to Matthews. During the Service of Thanksgiving for the Watch held on 8th May 1945, he recalled:
'Those nights evoked a spirit we shall never forget. We knew then the comradeship and friendship which come to men and women of goodwill when trivialities fall away and they face realities, realities of life and death, with a common purpose.'
It was with this fond remembrance that he founded the Friends of St Paul's 7 years later.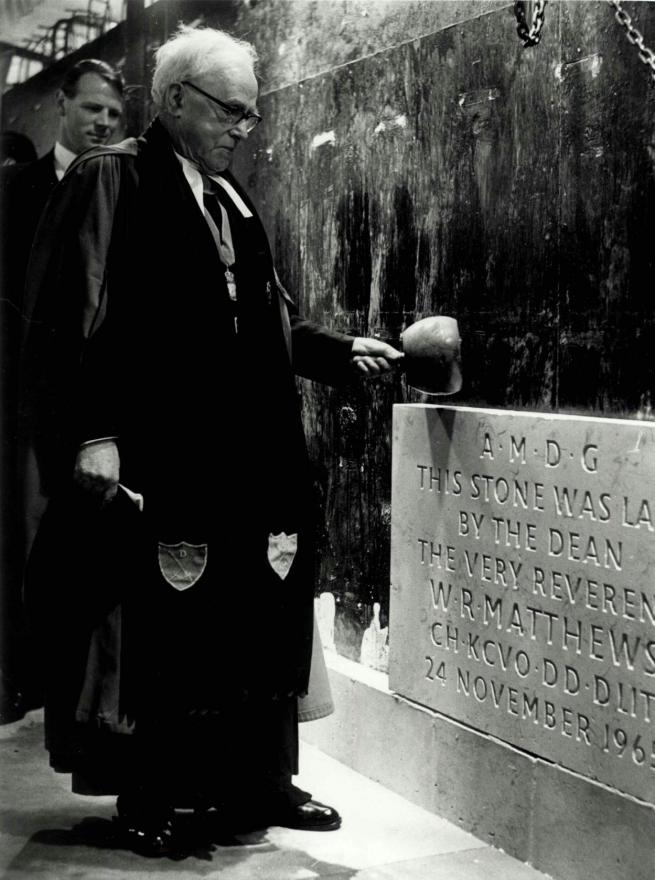 Dean Matthews laying stone for St Paul's Cathedral Choir School on 24 November, 1965 (Ref. No. 1724)
Chair of the Friends, 1952-1967
As well as founding the Friends, Matthews was Chair of the Friends throughout his long tenure as Dean at the Cathedral. He finally retired in 1967, 33 years after he had first joined the Cathedral.
He used his retirement years to write his memoir, Memories and Meanings, published 1969, 4 years before he died at the age of 92. 
More on the story of the Friends