Eileen Woods: Wandsman and Cathedral guide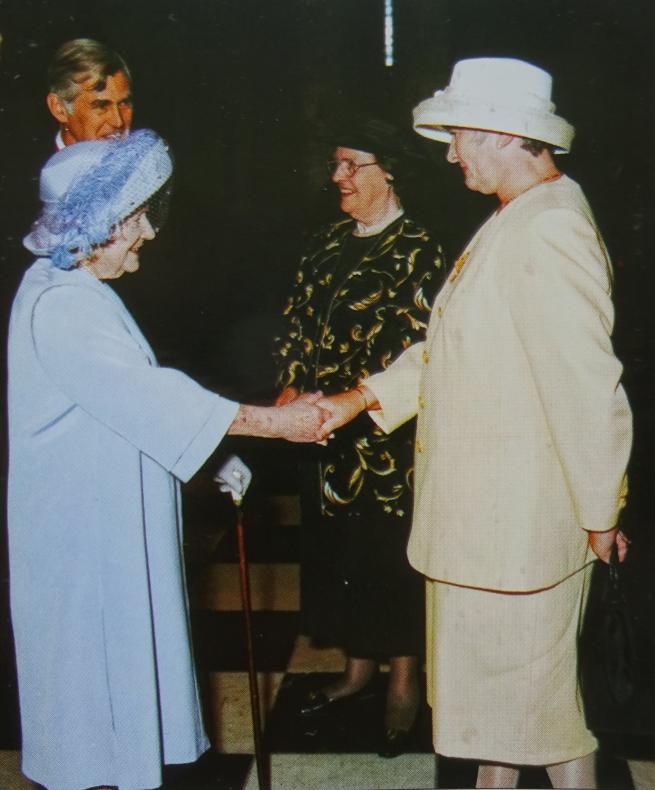 Eileen Woods meeting The Queen Mother, at the Friends' Festival, 2000
Eileen Woods: Wandsman and Cathedral Guide
Eileen first joined the Friends in 1991, but her connections to the Cathedral are life-long.
Eileen's earliest memories of St Paul's are of making visits with her mother during the Second World War. Both Eileen and her mother were evacuated to Kent, but they would frequently return to their home in Woolwich. St Paul's was her mother's favourite place so they would always visit whenever they were back in London. Eileen has memories of a dark and draughty building, and can even recall seeing the hole in the Cathedral floor made by the bomb in the North Transept.
Later on, for Her Majesty The Queen's Silver Jubilee in 1977, Eileen was at the Cathedral for the Thanksgiving Service and was fortunate enough to be given a peek inside the Gold State Carriage The Queen arrived in. Eileen's active involvement with the Cathedral began after attending the Thanksgiving Service for the Inner London Education Authority in 1990, who she had worked for since the 1970s. Not long after this occasion Eileen joined the Friends.
A busy time for Eileen and the Friends
The 1990s were a busy time for Eileen and the Friends; in 1995 she became a Working Friend and in 1997 she trained for and passed the examinations to become a Cathedral Guide. In 1999, along with her husband, she was confirmed by the then Bishop of London, the Right Reverend Richard Chartres, at the Cathedral.
Eileen was also a regular contributor to Dome magazine, submitting many articles on the history of the Cathedral. This decade culminated with Eileen being presented to The Queen Mother at the Friends Festival, 2000, a very special moment that she remembers fondly.
Setting a precedent
Eileen was also the first of six women to join the Cathedral Wandsmen in 2004, a group of volunteer ushers who serve at Sunday services, special services and events.
Within this role Eileen has attended services such as Her Majesty The Queen's Golden Jubilee, and the funeral of Baroness Thatcher.
Another memorable service was the British Evacuees Association service to commemorate the 70th anniversary of the start of the Second World War on 1st September 2009. Eileen attended this with her husband, both wearing evacuee labels, along with the rest of the congregation. Eileen now holds the title of Wandsman Emeritus.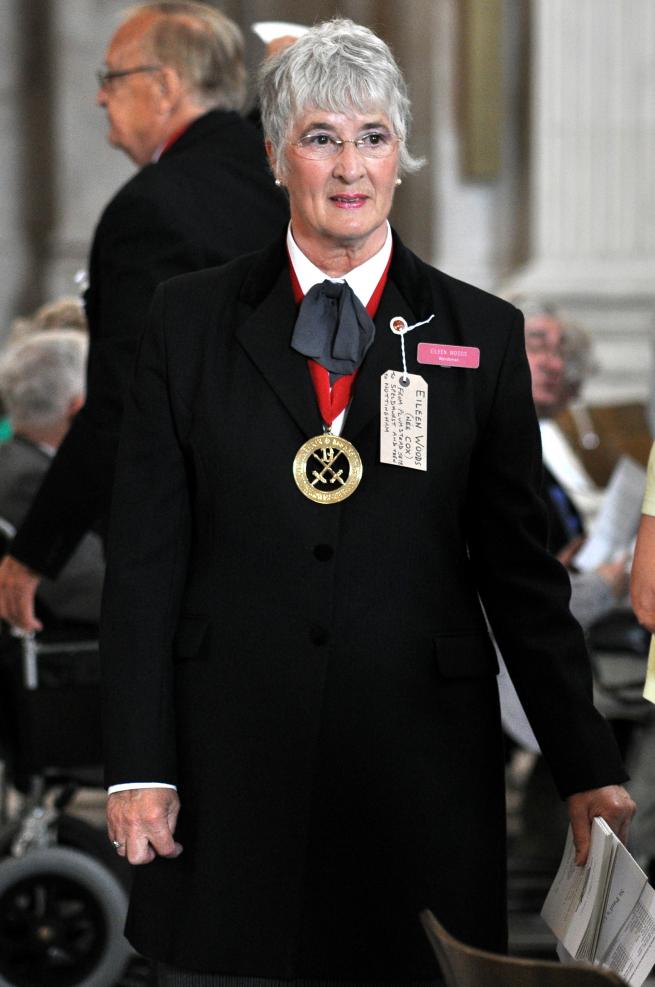 Eileen Woods attending a service to commemorate 70 years since the start of the Second World War, 1 September 2009
More on Friends old and new