Paul Robeson sings at St Paul's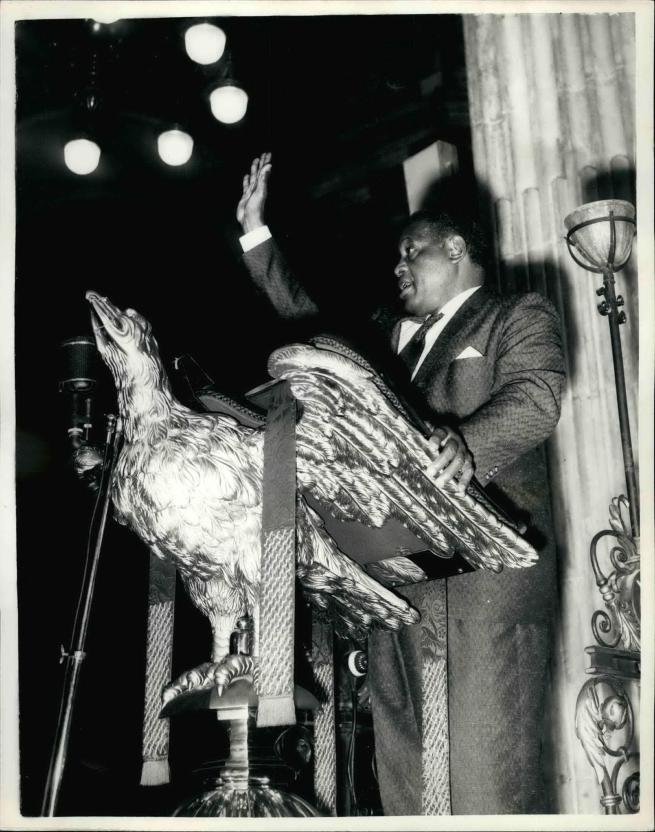 Paul Robeson standing at the eagle lectern, 10 October 1958 (Alamy Ref. No. E0RB14)
Paul Robeson sings at St Paul's Cathedral
In 1958, the actor and singer Paul Robeson became the first Black person to read The Lesson in the Cathedral.
Rise to fame
Paul Robeson (1898-1976) was an American actor, bass-baritone singer and political activist, whose career spanned over forty years. He achieved success as an actor and singer on stage, playing Othello in London and New York, and on film, in 1936 adaptation of the musical Showboat. As an actor he tried to break out of the stereotypical parts traditionally given to African Americans, seeking depth and dignity in his roles.
Politically, he was a staunch socialist, gave vocal support to the International Brigades in the Spanish Civil War and was a frequent visitor to the Soviet Union, whose perceived racial tolerance he admired. He was also a strong supporter of the Civil Rights movement in the USA, refusing to perform before segregated audiences.
Troubles and triumphs
In the 1950s, because of his political beliefs, he came under sharper scrutiny from the American authorities. His passport was confiscated in 1950 and it was impossible for him to perform abroad.
Due to his popularity in Britain, there was a considerable campaign to get Robeson's passport returned. Concerts were organised in the UK, to which Robeson contributed by singing down the telephone line from America. Partly due to this pressure, Robeson's passport was returned in 1958 and he travelled to Britain for a series of concerts. During this tour, he made several television and radio appearances and also returned to the role of Othello at Stratford in 1959.
 
Robeson at St Paul's 
Robeson was invited by John Collins, a Canon of the Cathedral, to sing at Evensong on the 12th October 1958. Robeson's appearance raised funds for the Defence in the South African Treason Trials, in which 156 people, including Nelson Mandela, were accused of treason. The service was attended by so many, that many people stood, and huge crowds spilled outside onto the Cathedral steps. 
He sang a selection of spiritual songs from the Eagle Lectern and became the first Black person to read a lesson in the Cathedral. After the service, he was congratulated by well-wishers both inside and outside the Cathedral.
For the month of October 2018, a bust of Paul Robeson by the sculptor Jacob Epstein was displayed under the Cathedral dome for the anniversary of the concert – on loan from York Museums Trust (York Art Gallery).
'The artist must take sides. He must elect to fight for freedom or slavery. I have made my choice. I had no alternative.' Paul Robeson, 1937.