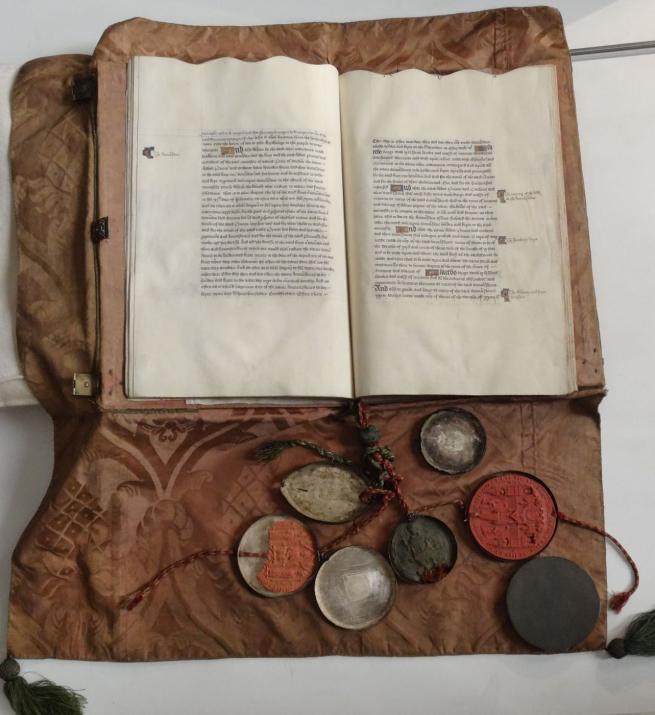 The indentures open showing the "indents" along the top of the pages and the original seals attached beneath.
The Henry VII Indentures
This is a colourfully illuminated set of written agreements – known as an indenture quadripartite (four-part) –  formed part of a larger collection, made between Henry VII and the abbot (John Islip) and monks of Westminster Abbey on 16 July 1504. 
They cover the King's new burial chapel in the Abbey, the founding and maintenance of an almshouse, and rituals to be performed on behalf of the King and his family.
Preserving the King and his family
The indenture quadripartite details 'foreign obits' – annual practices designed to support the welfare of the King and his family, before and after death. This included a commitment from the Abbey's clergy to say particular prayers, and guidance on the delivery of sermons, the performance of liturgies and the distribution of alms (money, food or other donations for poor communities). 
These kinds of ceremonial activities reflected the Catholic belief that prayers for the dead were a means of helping souls to be delivered from Purgatory into Heaven.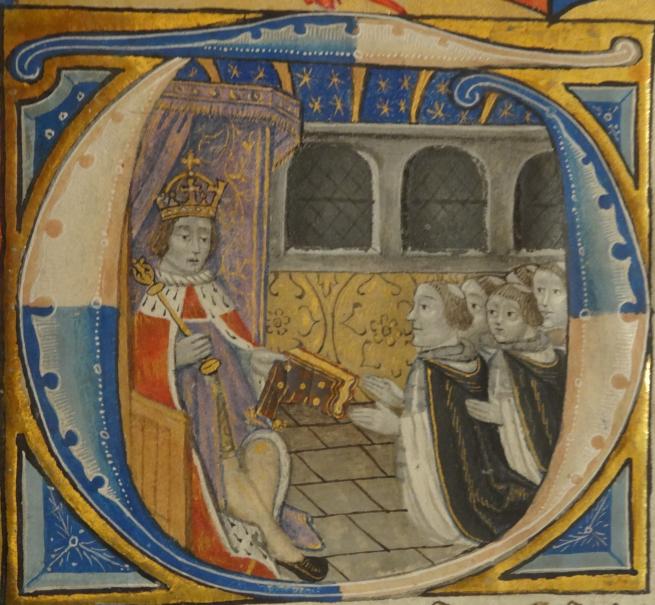 Illumination showing the presentation of the indentures to a group of monks, body colour and gold leaf on vellum, 1504.
It was not just the abbot and monks of Westminster Abbey who were expected to observe these activities, though. Many other religious communities were also bound to the ritual requirements of the indenture – and faced a penalty if they failed to do so.
Pieces of a puzzle 
Copies of the indenture quadripartite were distributed to the King, to the abbot and monks of Westminster Abbey, and to 20 third parties including the Chapter of St Paul's Cathedral. Only half of these third party indentures are thought to have survived. 
To make sure that separate copies could later be reunited and verified as genuine, they were designed to fit together like pieces of a jigsaw puzzle. This accounts for the curious, wavy manner in which the upper edges of the pages have been trimmed. It would have allowed copies to be matched up with others in an interlocking shape. In fact, indentures derive their name from their appearance; the word 'indenture' comes from the French word endenture, which means 'indented' or 'toothed'.