At The Gates: Sharing the stories of disabled Christians
At The Gates: Sharing the stories of disabled Christians
06/06/2023Time7:00pm - 7:45pm
Tickets
Free with a ticket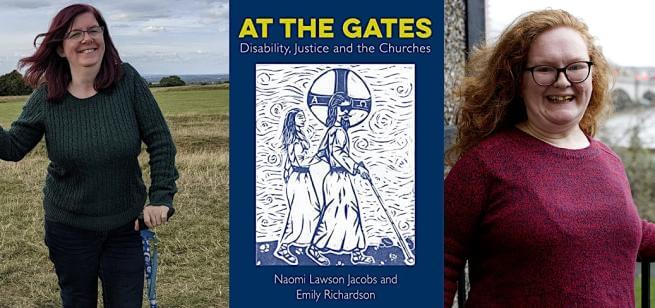 Online event premiered on YouTube and then available on catch-up.
The Bible proclaims that we are all wonderfully made in God's image, but the continuing marginalisation of disabled siblings in our churches and society indicates that we have a long journey towards recognising the value, and giftedness, of all.
Join us online as Dr Naomi Lawson-Jacobs and Emily Richardson, co- authors of At The Gates: Disability, Justice and the Churches will be in conversation with Reverend Zoe Heming.
Naomi and Emily centre their book around disabled Christians' own stories, and call for churches to move from a care-based approach to disability, to one that is focused on justice, equality and access to churches for disabled Christians.
Dr Naomi Lawson Jacobs (they/them) is an independent researcher and disability equality trainer who works in the voluntary sector and in churches. Naomi's book At the Gates: Disability, Justice and the Churches, co-written by Emily Richardson, shares disabled people's stories of marginalisation in churches, their cries for justice and their transformative theologies. The book is based on Naomi's PhD research (SOAS, University of London). Naomi has been involved with the planning of the annual Inclusive Church disability conference for many years, and they write and speak widely on disability and justice in church and society.
Emily Richardson is a writer and speaker whose interests include theology, inclusion and communication - particularly social and digital media. She studied theology at St Andrews and now works for a large church as communications coordinator. She has just co-written At the Gates: Disability, Justice and the Churches with Naomi Lawson Jacobs .
There will be on screen BSL translation as well as the option of accurate closed captions on YouTube.
This online event is free, but if you are able to make a donation to the continuing learning programme at St Paul's Cathedral when you register for the event we would be very grateful.
We are very grateful to Benefact Trust for their generous support of this programme.